Odyssey Marine Hauls in 61 Tons of Silver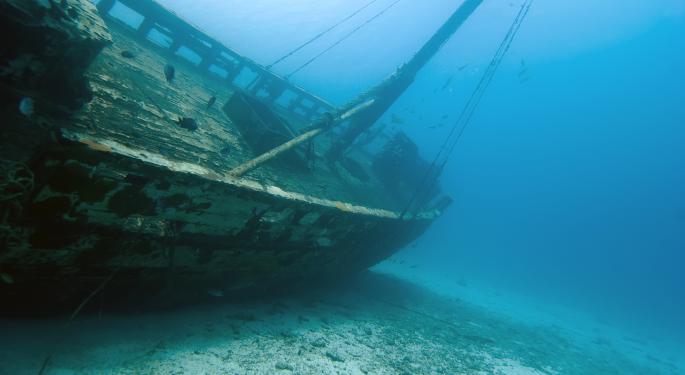 The amount of available silver in the world just increased by a boatload. Literally.
According to a company newswire, Odyssey Marine Exploration (NASDAQ: OMEX) recovered more than 61 tons of silver bullion from the SS Gairsoppa in July.
The recovery, conducted at a depth of almost three miles, is the deepest and largest precious metal recovery from a shipwreck in history. The insured bullion recovered in this operation consists of 1,574 silver ingots weighing about 1,100 ounces each. The silver was transported to a secure facility in the United Kingdom according to the news wire.
All told, including silver recovered in 2012, Odyssey has raised 2,792 silver ingots from the SS Gairsoppa, consisting of more than 99 percent of the insured silver reported to be onboard the ship when it sank.
The contract between Odyssey and the UK Department for Transport calls for Odyssey Marine to keep 80 percent of the recovered silver. Odyssey won the contract following a competitive bidding process.
Fox News Tampa Bay reported that a German U-Boat sank the SS Gairsoppa, a 412-foot British cargo ship, in 1941. The ship was returning to London from India with a full load of tea and silver.
The German U-boat spotted the vessel near Ireland, fired a single torpedo, and sank the boat in nearly 3 miles of water.
Because the boat was so large and so deep, the operation was extremely difficult. Underwater robots were used to cut into the ship's cargo holds and haul the silver up.
Sources, according to the company newswire indicated that additional uninsured government-owned silver might have been on the SS Gairsoppa, although to date none has been located or recovered.
Discovery Communications (NASDAQ: DISCA) owned Discovery Times Square has the first silver ingot recovered from the Gairsoppa on display in New York. The Discovery Channel filmed the 2012 recovery operation, which was broadcast in Feb. 2013.
The most recent recovery was conducted on the 291-foot Seabed Worker, which has since returned to work in the North Atlantic attempting to salvage 600,000 troy ounces of silver that went down with the SS Mantola, a 450-foot British steam, lost in 1917.
With silver trading at $20.29 an ounce early Monday, the latest haul by Odyssey was estimated to be worth $ 35.1 million with Odyssey's share tabbed at just north of $28 million.
Related: UPDATE: Canaccord Genuity Downgrades Pan American Silver Following Lower Price Forecasts
Shares of Odyssey Marine Exploration were trading at $3.34, down $0.12 or just under 3.5 percent early Monday.
At the time of this writing, Jim Probasco had no position any mentioned securities.
View Comments and Join the Discussion!
Posted-In: Discovery Channel discovery communications German U-boat Oyssey Marine ExplorationNews Events Markets Media Best of Benzinga