Darden Restaurants Sued Over Tipping?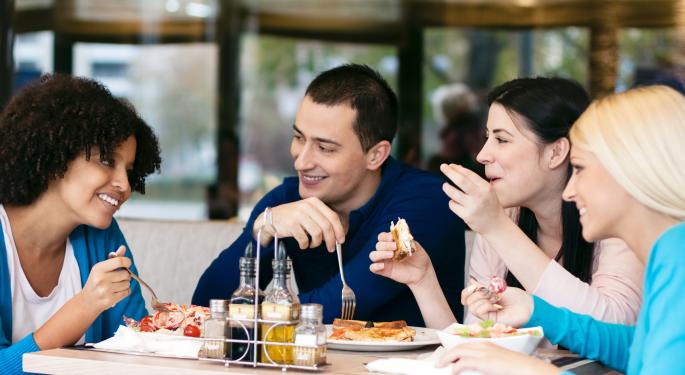 A lawsuit is just another day at the office for large corporations but unlike the Apple (NASDAQ: AAPL) patent infringement sagas that routinely play out, this one has a direct effect on anybody who eats at restaurants.
A few New York City restaurants, including Applebees and Darden Restaurants (NYSE: DRI)-owned Red Lobster and Olive Garden, are being sued on the grounds of deceptive billing practices.
"Deceptive billing practices" makes it sound a little worse than what it is so here's what's happening. If you've ever taken a larger group to a restaurant, you likely read on the menu or were told by the restaurant staff that parties of eight or more will have a gratuity automatically added to the check.
But the subject of the class action lawsuit is not these parties of eight or more, it's the smaller parties. CBS News sent two interns into two restaurants at Times Square and found that their check included a 17 percent "gratuity" and another line for "additional tip."
New York City law doesn't allow a restaurant to add any type of surcharge unless the party has eight or more people.
Related: Darden Announces Additional Franchise Deals in Latin America
And the lawsuit isn't small. Evan Spencer, the lawyer who filed the litigation, is seeking $5.5 billion on behalf of the class. If he were to win, it could affect more than 2,000 restaurants city-wide.
Darden released a statement that read, "The automatic gratuity is a convenience for our guests. Our guests always have the option of adding to, reducing or completely deducting the automatic gratuity before paying their check."
But what about your city? Could you sue your local Red Lobster if you were asked to pay a gratuity and a tip? It depends. Time Magazine reports that state and local laws differ nationwide. If you refused to pay the 17 percent added gratuity on your $40 check, fighting it in court would probably cost you a lot more in time and money than the $7 you were asked to pay.
And if you want one more reason to pay it, you can read about the man who was arrested for refusing to pay the added gratuity.
Something does seem wrong (although not "deceptive") about automatically adding the tip but for anybody who has worked as a server, they know that undertipping is more a rule than an exception. For those who rely on tips to feed their family, every dollar counts.
Disclosure: At the time of this writing, Tim Parker was long Apple.
Posted-In: Apple darden Evan Spencer Times SquareNews Legal Best of Benzinga
View Comments and Join the Discussion!