What Will Mobile Giants Do With All of Those Used Phones? (TMUS, T, VZ)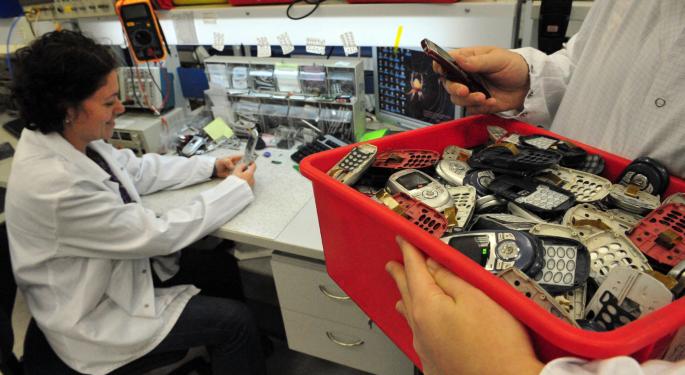 It's dominated the mobile-market news all week.
T-Mobile (NYSE: TMUS), Verizon (NYSE: VZ), and AT&T (NYSE: T) are offering a new program where customers can receive a new phone after a specified period by paying a monthly fee.
Each plan is slightly different, but generally the way it works is that after you've paid the monthly fee, you turn in your old, working phone and receive a new phone at no additional cost.
While the main story line in the mobile-wars soap opera is the three companies that are trying to one-up each other, what was lost in the story was the part about trading in the old phone. What do the cell phone companies want with all of those old phones?
They want to sell them, of course!
Related: Verizon and AT&T Unveiling Plans to Compete with T-Mobile 'Jump' Plan
There are two reasons the companies want your phone.
First, it's nothing new. When you last re-signed your cell contract with a new phone, you were probably asked if you would like to turn in your old phone in exchange for a cheaper upfront price on your new phone. How does $100 or more sound?
They call it recycling, but websites have popped up all over the Internet that offer to pay top-dollar for your used phone. The cell phone companies want a piece of that action too.
Second, the market for used phone is huge and it's growing—and not only in the United States. The latest Samsung (OTC: SSDIY) earnings, along with tepid Apple (NASDAQ: AAPL) iPhone growth are just a few of the more visible data points that illustrate how consumers around the world are growing tired of purchasing ultra-expensive phones.
Daniel Levine, Director of The Avant-Guide Institute said that in Japan, for example, consumers change their phone three or four times a year. This forces manufactures to debut new phones in the country multiple times per year—this has created a large budget phone market in that country as well as China.
In emerging markets like Africa, demand for affordable mobile devices is exploding. Kenya, for example, has the highest mobile payment adoption rate in the world, according to The Economist and in other parts of Africa, where electricity is scarce and expensive, mobile devices are finding increasing popularity as a lower cost alternative for connecting to the Internet.
What does all of this mean? The wireless companies have far more demand for used phones than they can meet and that means higher prices. It also means that these new trade-in programs, which aren't quite the value that they would like you to believe, could end up being big revenue drivers going forward.
Disclosure: At the time of this writing, Tim Parker was long Verizon
Posted-In: Africa Apple AT&TNews Emerging Markets Events Markets Tech Best of Benzinga
View Comments and Join the Discussion!