Verizon and AT&T Unveiling Plans to Compete with T-Mobile 'Jump' Plan (VZ, T, TMUS)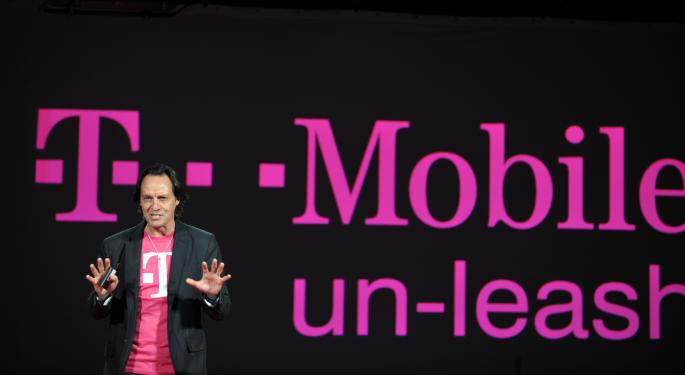 And the most innovate wireless carrier is? Apparently, T-Mobile (NYSE: TMUS).
The company recently revealed its "Jump" plan that allows customers to trade in their old phone up to four times in a 24 month period for a cost of $10 per month.  The $10 also includes insurance which makes the plan a bargain.
Now, Verizon (NYSE: VZ) and AT&T (NYSE: T) are reportedly coming out with upgrade programs of their own. This, not long after both added time to the contract before a customer could upgrade.
Monday, AT&T revealed a program its calling AT&T Next. Starting July 26, customers can pay a monthly fee for 20 months as part of their bill and have the option to upgrade to a new phone after 20 months. The initial purchase of the device comes with no down payment.
According to Appleinsider, the fee will range from $300 to $1,000 for the full 20 months depending on the make and model of the phone (Between $15 and $50 per month).
For example, a customer can purchase a 16GB iPhone 5 and pay only sales tax and $32.50 monthly for 20 months. After 12 months, they can upgrade to a newer phone without any extra fees.
Related: T-Mobile Lets Customers 'Jump' to a New Phone Twice a Year
Verizon hasn't made an official announcement but in a shocking, outrageous leak that certainly wasn't endorsed by the company (note the sarcasm), an employee training manual for a new program called "VZ Edge" will be Verizon's answer to this pesky T-Mobile problem.
VZ Edge will cost $10 per month and allow users to upgrade twice per year. Since the program hasn't officially launched, there are few facts but it appears the upgrade plan will launch August 25 and looks much more similar to the T-Mobile plan than AT&Ts.
But how much of a value are any of these programs? As with all financial decisions, it depends on you. If you're the techie that sleeps outside an Apple store on the days leading up to a new launch (does anybody do that anymore?), this program is probably for you.
If you're somebody who is fine waiting two or more years before upgrading your phone, don't bother.
For investors, the take away is this: Verizon and AT&T are getting a little nervous over these T-Mobile, hard-to-beat plans designed to lure customers away from the behemoth carriers. For the consumer, this battle between carriers is a win.
Hey T-Mobile, could you come out with a $10 per month cell plan? Maybe Verizon and AT&T will follow. Thanks!
Disclosure: At the time of this writing, Tim Parker had no position in the companies mentioned.
View Comments and Join the Discussion!
Posted-In: AppleInsider AT&TNews Rumors Contracts Events Tech Media Best of Benzinga