Ackman May Rely on His Friends in FedEx Bid (FDX)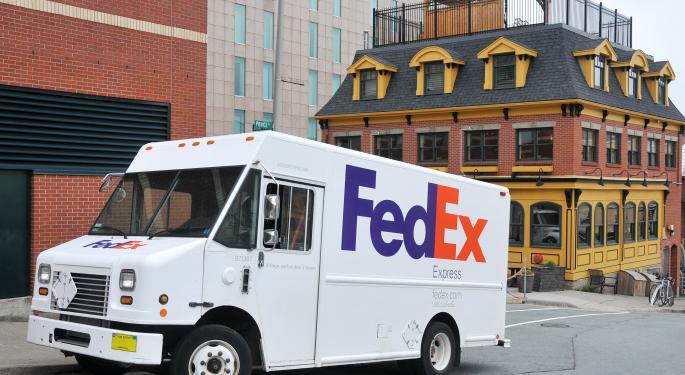 On Monday, reports circulated that Pershing Square Capital's Bill Ackman was raising funds for a new special purpose vehicle (SPV) designed specifically to invest in a large, U.S. company.
Previously, he has had success with such deals involving Sears Holdings (NASDAQ: SHLD) and Burger King (NYSE: BKW) however failed in his deal involving Target (NYSE: TGT) due to the leverage of the deal.
$1 Billion In 10 Days
Ackman is looking to raise at least $1 billion in ten days as of Monday, or over the next week, to invest in a large cap U.S. company. Speculation has abounded over the last few days as to the target of the fund with FedEx (NYSE: FDX) shares rising over six percent Tuesday on speculation that the company was the subject of the SPV, speculation that was neither confirmed nor denied.
Despite his relatively strong track record with such deals, the hedge fund heavyweight may struggle to raise the funds due simply to the short time frame for which he is looking to invest. Already, one large client, the Public Employees Retirement Association of New Mexico said it will pass on investing in the new SPV. "We were notified of the PS (Pershing Square) special vehicle, but will not be investing as it has a longer lock-up than what we'd like," said Jason Goeller, who oversees hedge fund investments at the $13 billion pension fund.
Reticence of Investors
The New Mexico investment fund may be just one of several key investors reticent to invest in the fund. One key hindrance, as Goeller pointed out, is the lockup period for funds; Ackman is looking to completely restructure a large company which could take years, especially if the company has a large labor union or has a relatively diverse group of investors lacking individual large holders.
Interestingly, FedEx does have a few activist funds, including Southeastern Asset Management, as its top investors who together control more than 16 percent of the stock of FedEx. If Ackman can raise $1 billion to invest, and potentially add some firm or personal capital alongside the invested capital, Ackman could theoretically control 17 percent of FedEx if these other funds team up alongside him.
FedEx Shares Uncertain
FedEx shares have whipsawed in recent days following the rumors that began to leak on Tuesday. Shares have oscillated between $102 and $106 all week and at the time of publication traded at $105.20, up 2.14 percent on the day. The volatility in the shares could be due to the uncertainty surrounding the potential Ackman bid.
View Comments and Join the Discussion!
Posted-In: News Rumors Management Insider Trades Intraday Update Markets Movers Media Best of Benzinga