U.S. June Auto Sales Climb To Highest Since 2007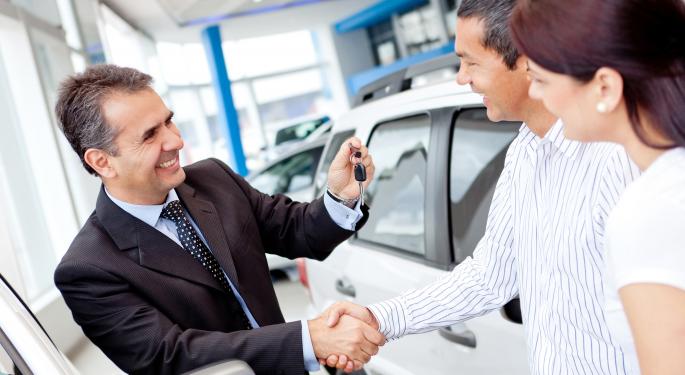 Auto sales in the U.S. rose to a 67-month high in June as Americans continued to spend on more fuel efficient cars and also on pickups in a sign that companies are continuing to invest in new truck fleets as the economy tries to find a footing.
Sales Accelerate
Ford (NYSE: F) sales of cars and light trucks gained 13 percent to 234,917, beating the 12 percent increase expected by economists. Meanwhile, sales at General Motors (NYSE: GM) rose 6.5 percent to 264,843, exceeding the 2.1 percent forecast. The last of the Big Three, Chrysler, saw sales rise 8 percent in June.
Elsewhere, Toyota (NYSE: TM) sales gained 9.8 percent including its Lexus brand and Toyota branded sales rose a strong 14.4. percent. Honda (NYSE: HMC) also reported strong U.S. June auto sales growth of 9.7 percent, both Japanese car makers getting a boost from the continually weaker yen.
Other companies reporting auto sales include:


Porsche sales rose 23 percent.

BMW sales rose 21.4 percent.

Mazda sales rose 13.0 percent.

Nissan sales rose 12.9 percent.

Audi sales rose 8.2 percent.

Mercedes-Benz sales rose 7.0 percent.

Volkswagen sales fell 3.2 percent.
Best In 67 Months
Americans are buying new cars and trucks at the fastest rate since 2007 as they replace the oldest vehicles ever on U.S. roads. Total auto sales in June rose 9.2 percent from a year ago to 1.4 million, exceeding the 1.38 million estimate. On an annualized basis, the annual rate of sales rose to nearly 16 million vehicles at 15.96 million, the best figure since the 16.1 million annual rate of November 2007.
Both Ford and GM noted strong demand for pick-up trucks in June. Sales of Ford F-Series pickups surged 24 percent to 68,009 while GM's Chevrolet Silverado climbed 29 percent to 43,259 and Dodge Ram pickup deliveries increased 24 percent to 29,644 for Chrysler.
"American families are better off than they were at the beginning of the year," Kurt McNeil, GM's vice president of U.S. sales operations said. "They also believe that the economic expansion is going to continue, so they're buying more homes and more cars and trucks."
"The fundamentals for continued growth in the new vehicle sales industry are intact," Reid Bigland, Chrysler's U.S. sales chief said. "The availability of credit for automotive loans is as good as it's ever been. Pent-up demand is still a big factor out there. Even this telegraphing a little bit of tapering is a sign that the economy is getting better."
Shares React
Ford shares gained 0.87 percent to $16.32 Wednesday after rising sharply Tuesday on the news after making a new 52-week high this morning. GM shares, meanwhile, fell 0.26 percent today, erasing some of Tuesday's gains. GM shares traded $34.01, just off of the 52-week high of $35.49.
Posted-In: auto salesNews Events Global Econ #s Economics Intraday Update Markets Best of Benzinga
View Comments and Join the Discussion!