Everything You Never Knew About the Fireworks Business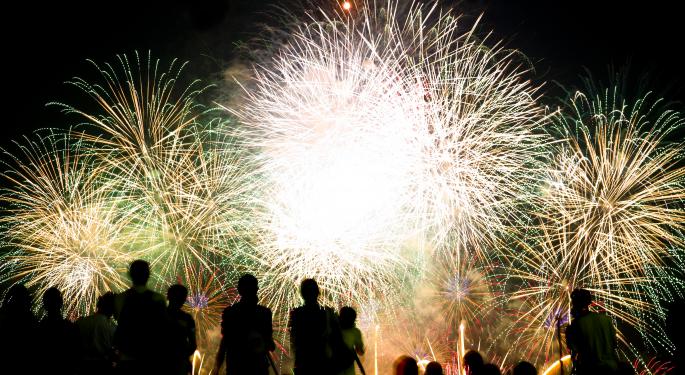 Shine up your grill, get out your red, white and blue-everything, and let's celebrate Independence Day.
On Thursday, markets will be closed as Americans celebrate with parties, flags and fireworks. But when did you last think about economics of fireworks? What kind of money are we talking about here?
According to Bloomberg, Americans spent close to $1 billion on fireworks in 2012. That number equates to 207.5 million pounds, according to the American Pyrotechnics Association. Consumer fireworks—those purchased by individuals made up the bulk of the consumption—182.2 million pounds leaving display fireworks, those purchased for shows that many will see on July 4, equaled 31.7 million pounds.
Over the past 12 years, consumer fireworks consumption has risen 40 percent while display fireworks consumption has fallen 37 percent. This illustrates the tightening budgets of cities around the nation who foot the bill for displays that can cost more than $25,000. Macy's (NYSE: M) spends a little bit more than the average city. Its televised display costs more than $500,000. In total, nearly 14,000 fireworks displays will take place around the nation this year.
Fireworks may be the centerpiece for this all-American holiday but there's little about fireworks that is made in America.
Julie Heckman, Executive Director of the American Pyrotechnics Association, said in an emailed statement to Benzinga, "The U.S. fireworks industry relies on imports from China.  99 percent of the consumer or backyard fireworks are imported from China.  75 percent of the professional display fireworks are imported from China with about five percent domestic production, and the remaining 20 percent from Spain, Portugal, Italy, Germany, and Japan."
Related: Are Hot Dogs Losing Popularity as a July 4 Favorite?
Why? Because fireworks are largely handmade. The amount of man-hours, according to Heckman, that go into the shows we'll view as part of our July 4 festivities is extraordinary but there's a problem.
The days of Chinese cheap labor are slowly coming to an end. Those who used to manufacture fireworks are leaving the industry for higher-paying jobs assembling electronics. In some wildly indirect sense, Apple (NASDAQ: AAPL) and other electronics companies may be killing off our fireworks.
Then there's the transportation issue. Fireworks are handmade because using machines risks explosion. Companies operating the large shipping vessels that transport the fireworks across the oceans fear the same fate and since fireworks are such a small part of their revenue, the reward doesn't come close to outweighing the risk.
But don't worry. Despite the headwinds, the snap and crackle of those big public displays along with the wide-eyed amazement of a three-year-old holding a sparkler isn't going anywhere. Like all business models, the fireworks industry is being forced to respond to changing market conditions but we can all be confident that enterprising entrepreneurs will meet the need of a nation with a spare $1 billion to spend.
Happy Independence Day from all of us at Benzinga!
Posted-In: American Pyrotechnics Association fireworksNews Events Global Econ #s Economics General Best of Benzinga
View Comments and Join the Discussion!