Ryanair CEO Wants $10 Flights Across the Atlantic (RYAAY)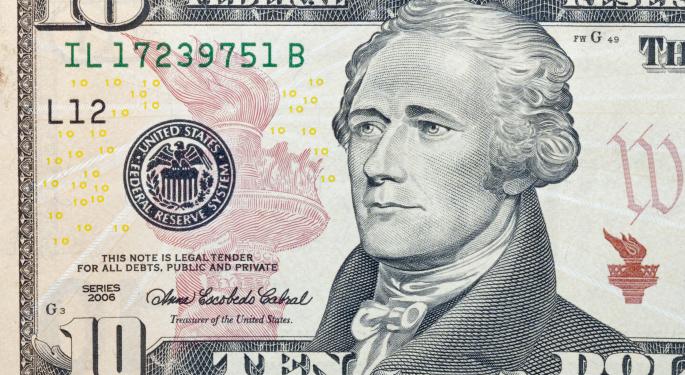 Ryanair Holdings (NASDAQ: RYAAY) CEO Michael O'Leary said in a Bloomberg interview that he would like to see Europe to U.S. flights for $10.
You have to think that Ryanair CEO Michael O'Leary is the subject of a lot of lunchtime conversations among Ryanair employees. O'Leary has long been known for some—to put it nicely—non-traditional ideas.
Among them, standing cabins, pay toilets and using only one pilot instead of the usual (and mandated) two. Let's not forget aircraft seats that don't recline, lack of seatback pockets, removing restrooms to make room for more seats, a rumor that it wanted aircraft without window shades and the idea to charge a 'fat tax' for those customers who are obese.
Now, he's back on his kick of $10 fares across the Atlantic. In fact, he doesn't try to disguise the idea in CEO-style market spin. He said, "There may be an opportunity to do $10 fares across the Atlantic."
As you can imagine, there might be a few problems holding him back from this goal.
Ryanair Doesn't Fly to the U.S.
Seems like an obvious issue. If you don't currently fly to the U.S., a trans-Atlantic offering will require a little work to set up the infrastructure. Finding terminal space isn't easy or cheap.
It only uses 737 Jets
Airlines that fly trans-Atlantic routes use huge single or often double aisle aircraft not just for your comfort, but to cram as many people as possible on to the plane to reduce overhead costs. The airline has none of those aircraft.
Its business model won't work
Ryanair keeps rates low by cutting out the frills. One of its ways is to make quick trips that allow it to turn the plane around rapidly. It also tends to fly into lesser-known airports where terminal fees are cheaper.
Trans-Atlantic flights aren't rapid turnaround and asking an international traveler to land at a smaller airport outside of a major tourist hub isn't likely to "fly" with passengers. (Although to be fair, for $10, it might be worth the hassle.)
In 2008, the company was floating the idea of $13 trans-Atlantic flight from New York City to London. With an even lower rate this time around, the idea is being laughed at in some travel circles. When asked how the company could afford to charge only $10, O'Leary would only say, "brilliantly talented management."
Let's hope that he figures it out but keeps all of the seats attached to the aircraft.
Disclosure: At the time of this writing, Tim Parker had no position in the above named securities.
Posted-In: Michael O'Leary RyanairNews Offerings Legal Management Events Global Best of Benzinga
View Comments and Join the Discussion!