INTERVIEW: When Will Tesla's Mass-Market Vehicle Arrive? (TSLA)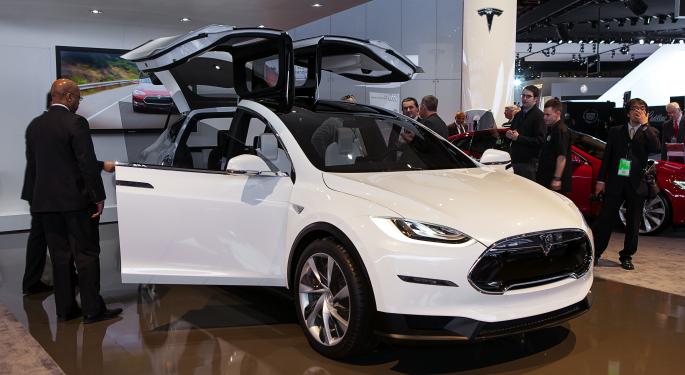 Tesla (NASDAQ: TSLA) hopes to begin selling its first $35,000 vehicle within the next three to four years.
While that price is considerably lower than the starting MSRP of the Model S, it is still too expensive to achieve mass-market appeal among everyday consumers.
However, a lower price is expected to come.
Cole Wilcox, the Portfolio Manager, CEO and CIO of Longboard Asset Management, said that there is "zero doubt whatsoever that Tesla will be a mass-market car manufacturer."
Initially, Wilcox believes that the firm will try to compete with the 3 Series from BMW, along with other cars within that range.
"That's really the target audience," he told Benzinga. "They're starting today with a car that competes with everything that's in line with Porsche or Mercedes Benz, etc., and then the next step is into the one round below that, which is still -- it's a mass-market vehicle -- but is still within that BMW 3 Series-type customers."
After that, Tesla will slowly work its way toward competing with cheaper cars, such as the Ford (NYSE: F) Focus or Chevrolet (NYSE: GM) Cruze.
"It's a question of, at what duration does it happen?" said Wilcox. "Absolutely I think that's within the 10-year window, but it's not within the next five."
Preliminary Support
Unlike most investors, Wilcox supported Tesla -- and believed in its potential -- long before others came aboard.
"I like to look at the world and try to identify a big group of people who have a strong conviction about something in one direction and then look for information that sort of disproves that strong conviction," he said.
"In the case of Tesla, it was the most heavily shorted stock in the market -- or one of them, at least -- under this idea that Tesla was just another green energy company on its way to failure, similar to every other company in that space to date."
Wilcox looked at the opposite of the equation -- the consumer adoption rate, the early sales success, the emergence of Tesla as "the next great, high-end consumer brand around the world," as well as the "quality of the product being something fundamentally different from what had ever been in the marketplace before."
"Looking at this information…[it] contrasted with the strong conviction of the short sellers," Wilcox added. "There's a strong diversion between the two. One of these groups of people is going to be very wrong. For me it was obvious that the people betting on the short side of the company were wrong and I took the other side of the trade."
Direct Sales
While Tesla may have hit a few hurdles, Wilcox believes that the firm will ultimately be allowed to sell its cars directly to customers.
"I think, like anything, what you see is an entrenched industry that is doing what any entrenched industry does, which is try to use protectionist strategies and legal maneuvers and leveraging kind of arcane local laws to protect themselves against what they deem as a competitive threat to their business model," he said. "Dealers are not dissimilar from unions trying to protect themselves by banding together.
"In a free market system, inevitably all protectionist strategies are doomed to failure. I think that over time Tesla will win."
Louis Bedigian is the Senior Tech Analyst and Features Writer of Benzinga. You can reach him at 248-636-1322 or louis(at)benzingapro(dot)com. Follow him @LouisBedigianBZ
Posted-In: Cole Wilcox Longboard Asset Management TeslaNews Success Stories Tech Best of Benzinga
View Comments and Join the Discussion!