Men's Wearhouse Just Didn't Like The Way That George Zimmer Looked (MW)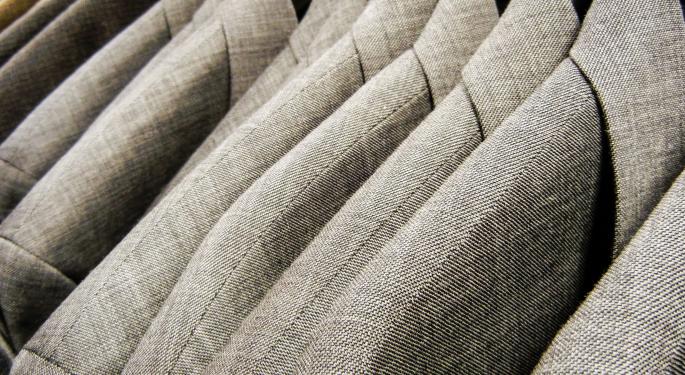 The George Zimmer saga at Men's Wearhouse (NYSE: MW) ended dramatically last week as the infamous face of the company was fired from the Board of Directors.
The iconic founder of the company and face of the marketing campaign centered around the slogan "You're Gonna Like the Way You Look" no longer was a fit for the company and Tuesday, the Board issued further details surrounding Mr. Zimmer's departure.
Communication Breakdown
Not the Led Zeppelin song but a decline in relations between the Board and Mr. Zimmer led to his ousting from the company that he founded and helped to build. The Board had recently been criticized by Mr. Zimmer for firing him abruptly and without cause, however the statement today issued by the Board draws a different light on the situation.
"Our actions were not taken to hurt George Zimmer. Rather we were focused on what we believed to be in the best interests of Men's Wearhouse, as well as shareholders and employees. While Mr. Zimmer owns 3.5 percent of the stock, it is our obligation to represent the interests of all shareholders. "
"Mr. Zimmer had difficulty accepting the fact that Men's Wearhouse is a public company with an independent Board of Directors and that he has not been the Chief Executive Officer for two years. He advocated for significant changes that would enable him to regain control, but ultimately he was unable to convince any of the Board members or senior executives that his positions were in the best interests of employees, shareholders or the company's future."
Key Issues
Several key issues were highlighted as reasons for Mr. Zimmer's ousting. First, Zimmer refused to work with the new management team and only would support new CEO Doug Ewert when his own demands were met. Also, Zimmer expected veto powers over many corporate decisions, including executive compensation. However, Zimmer was treading dubious waters in these requests as a public company such as Men's Wearhouse legally has to have an independent compensation committee determine executive pay.
After years of defending against a private takeover, Zimmer recently reversed course and advocated for a private sale in a leveraged buyout. However, such a sale would result in the company being forced to load up with debt which would damage shareholder value, not enhance it. The Board, alongside Zimmer, recently approved a strategic plan led by new CEO Ewert in which the company would stay public and attempt to boost profitability.
"Mr. Zimmer presented the Board with the choice of either a) continuing to support our CEO and the management team on the successful path they had been taking, or b) effectively re-instating Mr. Zimmer as the sole decision maker. The Board strongly believed that the best course of action was to re-affirm its support for Doug Ewert, the senior management team, our shareholders and our employees."
"Neither the Board nor management desired a total breakdown of the relationship between Mr. Zimmer and the company. In our discussions with Mr. Zimmer, we made considerable efforts to find a solution that would have allowed him to continue to have a significant involvement with Men's Wearhouse. Unfortunately, Mr. Zimmer wouldn't accept anything other than full control of the company and the Board was left with no choice but to terminate him as Executive Chairman. "
Markets Cheer
Shares of Men's Wearhouse initially plunged on the announcement that Zimmer had been terminated on June 19. However, the statement this morning sent shares higher by 2.62 percent to $36.05 per share.
Posted-In: Doug Ewert George Zimmer men's warehouseNews Management Pre-Market Outlook Markets Press Releases Best of Benzinga
View Comments and Join the Discussion!