American Airlines Now Using iPads in Most Cockpits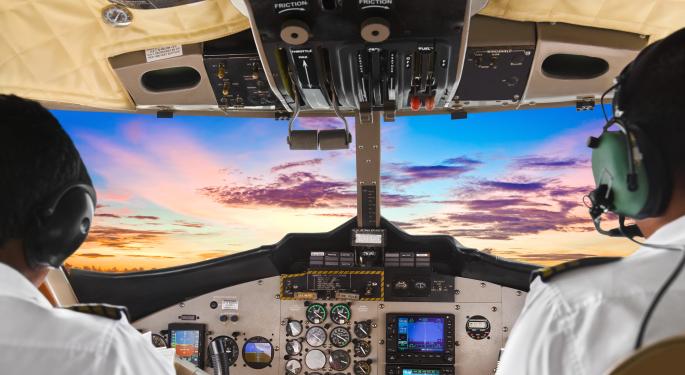 On Monday, American Airlines (OTC: AAMRQ) announced that it completed the rollout of its Electronic Flight Bag program.
The program replaces 3,000 pieces of paper previously carried by all pilots with a single iPad.
American becomes the first airline to completely jettison the old-school paper system with a fully electronic flight kit that allows for gate to gate use of Apple's (NASDAQ: AAPL) iPad on its Boeing (NYSE: BA) 777, 767, 757, 737 and MD-80 aircraft.
It might seem like one of those insignificant press releases that litter the internet but assuming American's statistics are true, eliminating the 3,000 pieces of paper from the cockpit will save 400,000 gallons of fuel annually.
That equates to $1.2 million slashed from the airline's fuel costs. Then there's the savings that comes from eliminating 24 million pages of paper documents that are constantly updated, and the personnel costs related to managing the pilot's kitbags.
"Our focus on technological improvement throughout our operation has never been stronger as we continue to build the new American," said Patrick O'Keeffe, American's Vice President – Airline Operations Technology.
AppleInsider pointed out that there would likely be cost savings from the lower amount of back injuries that come from moving a much lighter kitbag. Of course, there's also the environmental upside.
Instead of the 3,000-page kitbag, pilots will use mobile software and data from Jeppesen, a unit of Boeing Digital Aviation. The mobile terminal chart is approved for gate to gate use throughout all phases of flight.
"We congratulate American Airlines on the success of its Electronic Flight Bag program," said Jeppesen President Thomas Wede. "Working closely together on this program over several years, we take pride in American's achievements as it continues to eliminate paper-based materials in the flight deck, reducing pilot workload and increasing operational efficiency in a competitive business environment."
Apple has to like the news. It sold 8,000 iPads to American to complete the roll out. American Eagle, American's regional jet service, will begin adopting iPads on an optional basis for pilots starting July 10. This would likely create a larger need for Apple's flagship tablet.
In a space where copying successful programs is commonplace, a positive roll out of the program will likely lead to much more business for Apple and Boeing. That's great news, especially for Apple who has held the stigma of making products that aren't as well adapted for commercial use.
Only two questions remain: Do the pilots have to completely power down and stow their iPads below 10,000 feet and does a flight attendant check to make sure they're off? And can they play Candy Crush?
Disclosure: At the time of this writing, Tim Parker was long Apple.
Posted-In: American Airlines Apple Boeing Patrick O'KeeffeNews Events Tech Best of Benzinga
View Comments and Join the Discussion!