From Worst to First: Boeing (BA)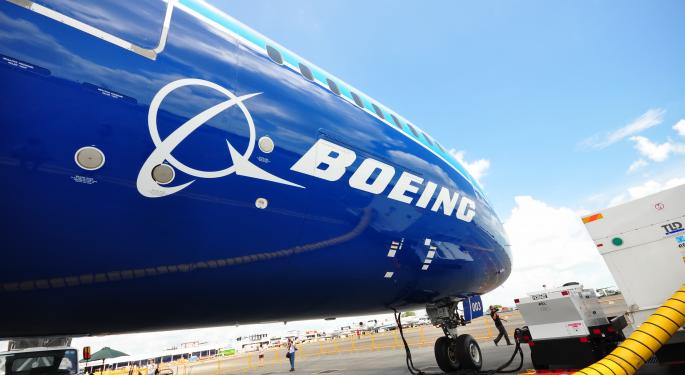 It wasn't too long ago when Boeing (NYSE: BA) felt like the Carnival Cruise Lines (NYSE: CCL) of aviation. All within a small window of time, its 787 Dreamliner, which already left a bad taste in the mouths of investors because of its money and time overruns, was full of mechanical issues.
Most notably, the lithium-ion battery was causing fires and nobody knew why. The aircraft was grounded by aviation authorities around the world with no foreseeable fix in sight. Investors wondered if a complete redesign would have to take place.
If you would have purchased the stock in January when the company was in the middle of its embarrassing PR nightmare, you would have paid around $75 for the stock. If you were still holding it today, you're up 34 percent.
What made the stock rise to $102.25 as of the close of trading Wednesday? First, the Dreamliner is flying again and the fix, by aviation standards, was minor. While the Dreamliner was grounded, the company continued to build the jets allowing it to have only minor impacts to its delivery schedule.
Next, the media sensationalized the battery issues but the buyers knew the real story. Every new product will have issues—especially something as complicated as a large aircraft with so many updated technologies. Orders weren't cancelled.
The culmination of Boeing's worst to first story is its announcements at this week's Paris Airshow. Among other positive news, the company announced that it had received 102 provisional orders for its new 787-10 Dreamliner. The newest variant of the Dreamliner will have a range of 7,000 nautical miles, seating for 330 passengers, and will operate 25 percent more efficiently than comparable aircraft.
The orders are valued at $30 billion at list prices although deals often include deep discounts. Air Lease will purchase 30, GE Capital Services (NYSE: GE) will purchase 10, British Airways, 12, Singapore Airlines will purchase 30, and United Airlines (NYSE: UAL) will purchase 20. (10 will be conversions from its 787-9 model due out this year.)
In other Paris news, Boeing said that it will deliver its 737 MAX, single-aisle aircraft six months ahead of schedule. The first of these jets will go to Southwest Airlines (NYSE: LUV) in the third quarter of 2017 instead of the end of that year.
This announcement is more significant than it appears on the surface. As investors saw with the 787, the aerospace industry is notorious for running sometimes years behind and well over budget. Boeing's announcement signals that it's becoming more comfortable with its manufacturing systems that were updated for its new generation of aircraft. The sooner a product enters the market, the sooner the company recoups its R&D costs. Investors have to like that.
Disclosure: At the time of this writing, Tim Parker had no position in any of the mentioned equities.
Posted-In: Boeing Carnival Cruise LinesNews Rumors Contracts Management Events Global Best of Benzinga
View Comments and Join the Discussion!