Action in Timber May Signal Start of Recovery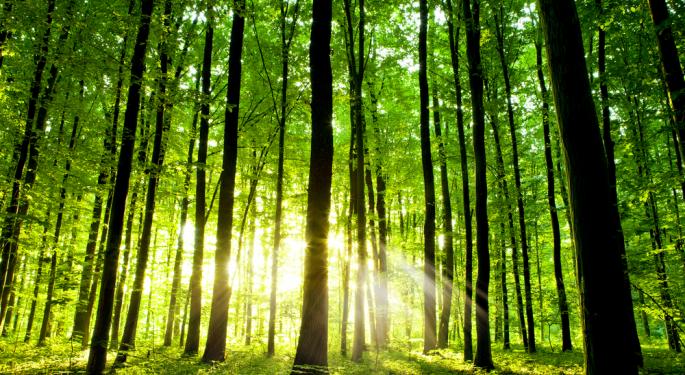 Deals and announcements over the weekend lend credence to the notion that a recovery in North America's forest products market may be underway.
For starters, one of the world's largest lumber companies is about to get larger. The Seattle Times reported Sunday that Federal Way, Washington-based Weyerhaeuser (NYSE: WY) has struck a deal to buy Longview Timber from Brookfield Asset Management (NYSE: BAM) for $2.65 billion.
Weyerhaeuser will acquire 645,000 acres of timberland in Washington and Oregon in what is being described as the third largest such acquisition in North America. After the deal closes in July, the company will own or control about 6.6 million acres of forest in the U.S.
Weyerhaeuser also announced the appointment of Doyle Simons former chief executive of International Paper (NYSE: IP) subsidiary, Temple-Inland as the company's new CEO. Simons will replace current Weyerhaeuser CEO, Dan Fulton, in August.
According to The Associated Press, the changing of the guard at Weyerhaeuser is all part of a planned transition. Simons, 49, succeeds Fulton who turns 65 this year and is retiring as planned. Fulton will serve as executive vice chairman of the Weyerhaeuser board of directors until October.
About Simons, Chuck Williamson, chairman of Weyerhaeuser's board of directors said, in a statement, "As former CEO and chairman of Temple-Inland, Doyle has a proven track record of driving performance to achieve results. He has deep experience in the forest products industry, broad business and functional expertise and a passion for operational excellence."
Williamson added that Simons would bring "tremendous energy, vision and leadership" at a time when the company is looking to optimize its assets, increase efficiency and rev up growth.
Weyerhaeuser, in a separate release, according to The Associated Press, said it was considering selling or spinning off its homebuilding and real-estate development business in an effort to capitalize on what it sees as an improving home market. The Weyerhaeuser Real Estate Company is one of the 20 largest homebuilders in the U.S.
In conjunction with the Longview acquisition, Weyerhaeuser said it intends to increase its third quarter dividend from 20 cents to 22 cents a share. In addition, the company said it expects to be able to increase dividends in the future as well.
Meanwhile, in addition to the Longview sale to Weyerhaeuser, The Globe and Mail reported Sunday that Brookfield said it signed a deal last week to sell paper mill and other assets in the Pacific Northwest to KapStone Paper and Packaging Corp. (NYSE: KS) for $1.03 billion.
All of these transactions come at a time when investors are seeing the potential for growth in the forestry industry in North America.
A recent softening of timber prices has not discouraged analysts who see a rebound in housing starts as a positive sign for timber.
In a recent research report, CIBC World Markets analyst Mark Kennedy said, "We believe the foundations for a significantly improved U.S. housing market and very strong North American lumber market through the 2014-2015 time frame remain in place."
In The Globe and Mail article Kennedy was quoted as saying, "The U.S. housing market is building new homes at a significantly lower rate than fundamental long-term demand."
At the time of this writing, Jim Probasco had no position in any mentioned securities.
Posted-In: News Dividends Financing Asset Sales Management M&A Events Media Best of Benzinga
View Comments and Join the Discussion!