Canadian Solar Will Have a Hard Time Illuminating the World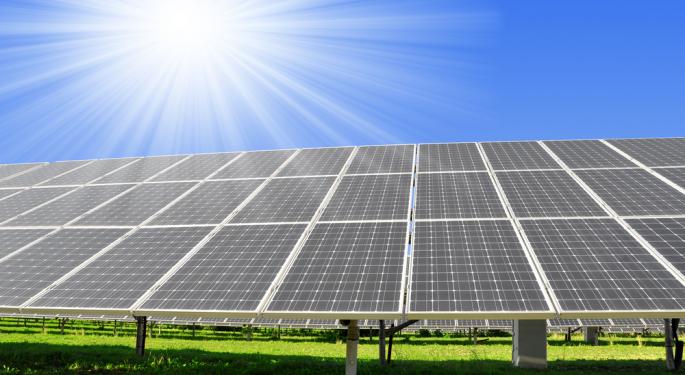 Canadian Solar (NASDAQ: CSIQ) is engaged in the design and manufacture of solar wafers, cells, and modules. The company utilizes flexible vertical integration, lowering material costs and increased ability to react to changes in demand.
Industry
One of the biggest indicators for Canadian Solar's success or failure in the market is the trend of solar products. The price of solar panels has fallen about thirty percent over the last couple years due to an influx of supply. Due to a strengthening global economy, social pressures for renewable energy and lower costs, most analysts expect demand for solar products to increase.
An important catalyst for the renewable energy industry is government policy. In the United States there is a 30 percent tax credit available for solar installations, and is scheduled to remain until 2016. Another project set to reduce the cost of solar power by 75 percent between 2010 and 2020 invests annually in research.
Aiding global manufacturers, the United States and Eurozone have steep tariffs imposed against Chinese manufacturers, claiming dumping.
Competition
In their annual report, SunPower (NASDAQ: SPWR), First Solar (NASDAQ: FSLR), Sharp Solar (OTC: SHCAY), Suntech (NYSE: STP), Yingli (NYSE: YGE) and Trina (NYSE: TSL) are noted as primary competitors. Most of these players are larger, giving them more financial resources and economies of scale.
Canadian Solar notes that some competitors are working on more advanced technologies that may have the effect of reducing costs, but dropping efficiency at the same time. This thinner film is similar to what it used to power solar calculators.
Along with other solar companies, Canadian Solar has to prove their competence over other forms of green energy and traditional energies.
Key Risk Factors
As seen in previous years, an influx of inexpensive raw materials caused a surge in demand. Naturally, production rose, driving prices and profitability down. Conversely, raw materials could see a jump in prices.
Canadian Solar depends on government subsidies and incentives to operate. Reduction of elimination of governmental support globally will challenge the company's operations.
The inability to develop or produce new technologies that are cheaper or more efficient can cause the company to fall behind competitors. The company is developing higher conversion cells.
Financials
Over the past three years, net income has fallen from 50 million to a 195 million dollar loss. In part this can be accredited to reduced sales, but the cost of sales is having more of an impact. Since 2010, the cost of goods sold as a percentage of sales has jumped from 84.7 percent to 93 percent.
In addition, the cost of sales has almost doubled with general administrative expenses up more than 130 percent.
Canadian Solar's 2012 Q4 loss of 1.71 per share is more extreme when compared to First Solar's earnings of 2.04 per share.
Insiders and Institutions
Currently, 86.3 percent of shares are held by retail investors, with institutions decreasing their stake this quarter by more than 44 percent. This comes after a 7.58 percent increase last quarter.
Since 2006, insiders have been granted 566,190. The float currently consists of 43.5 million shares.
Up more than 163 percent this year, shares of Canadian Solar are trading down almost one percent to $8.98.
Posted-In: News Small Cap Analysis Small Cap Trading Ideas Best of Benzinga
View Comments and Join the Discussion!