General Motors Offering Huge Incentives on Chevy Volt (GM)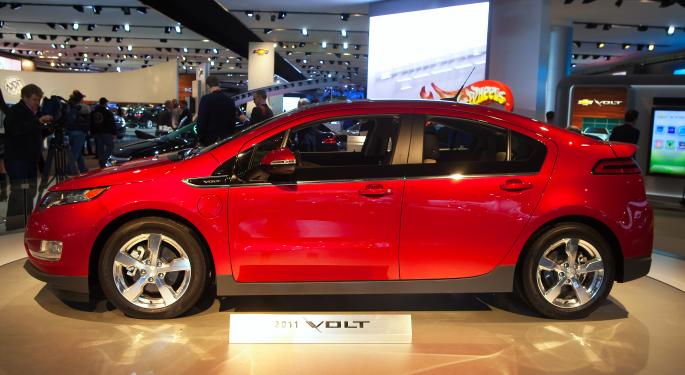 As reported by The Detroit Free Press General Motors (NYSE: GM) has started offering significant discounts on its Chevy Volt in a recent attempt to entice car buyers.

In order to combat stagnant sales, General Motors is offering rebates of $5,000 on its 2012 Volt and $4,000 on its 2013 Volt, which costs $39,995. Combined with a federal tax credit of $7,500, non-California residents would be able to purchase the Volt at $28,495.

The Detroit-based automaker also offers a special lease term for $269 a month for 36 months with a down payment of $2,399.
Although many automakers often lose money on electric cars, they are important for business. California, the largest auto market in the U.S., mandates that car makers sell a certain ratio of electric cars to gas powered cars. Chevrolet dealers reported nationwide sales of 1,600 Volts in May 2013, a 4.3 percent decrease while electric vehicle sales increased 8.2 percent.
It costs General Motors as much as $75,000 to produce a Volt, so the automaker loses money on every Volt it sells. However, the company states that its electric car technology is a long term investment that will pay off when the Cadillac ELR and Chevrolet Spark EV go on sale, which will allow the company to take advantage of a higher production volume and lower production costs, therefore raising margins.
General Motors closed Monday at $34.74.
View Comments and Join the Discussion!
Posted-In: Chevy Chevy Volt Detroit Free Press voltNews Events Tech Best of Benzinga