Sony's PlayStation 4 is Restriction-Free, $100 Cheaper Than Microsoft's Xbox One (SNE, MSFT)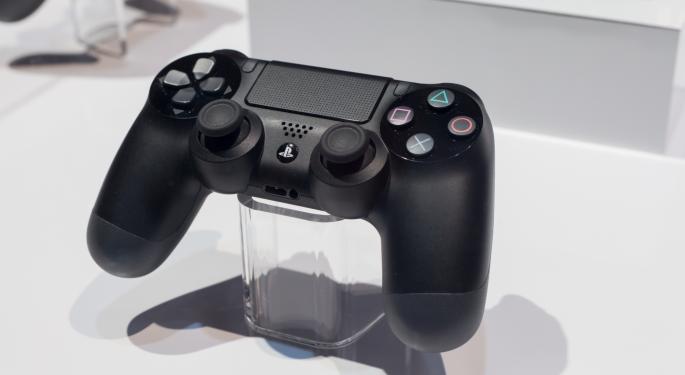 Sony (NYSE: SNE) announced that its next game console, PlayStation 4, will come in one configuration and sell for $399 this holiday season -- $100 less than Microsoft's (NASDAQ: MSFT) Xbox One.
Sony executives also made it crystal clear that it trusts its consumers and will not attempt to lock them out to combat piracy or used games. Unlike Xbox One, PlayStation 4 will not restrict used games in any way. Consumers who buy a disc copy of a game will be allowed to sell it, lend it or trade it in.
While Xbox One will lock games if the console is not connected to the Internet at least once per day, PlayStation 4 can be played offline forever without restricting consumers.
Both of these announcements received loud cheers from attendees at Sony's E3 press conference last night, especially the part about used games. In fact, Sony received two rounds of applause for that revelation.
This an interesting move for the Japanese tech giant, but it is an important one. Consumers did not respond well to the restrictions applied to Xbox One, which were not present in Xbox 360 or the original Xbox. Sony listened to those complaints -- which have flooded the Web since the anti-used games rumors began last year -- and reacted accordingly.
The used game decision was not made overnight, however.
"I literally have goosebumps right now, because that was always our plan," Sony Worldwide Studios VP Scott Rohde told Polygon. "It's something that we believe in. We know gamers come first; we know what they want. I was personally overwhelmed with the massive explosion on Twitter, with everyone essentially begging, 'Please don't do this Sony, please don't do this PlayStation!' It was so hard not to say, right away, 'Well, we never were going to do that, but now let's have a little fun and announce it in a fun way at the PlayStation press conference.'"
By charging $100 less than Xbox One, Sony has positioned itself to undercut the competition in every regard. While Nintendo's (OTC: NTDOY) newest console, Wii U, is still cheaper with $299 and $349 configurations available, sales of that system have dried up at retail. Unless something drastic happens between now and Christmas, it looks like it could be a two-horse race this time around, with Nintendo all but out of the picture.
While Sony has maintained that PlayStation 4 will ship this holiday season (in the United States and Europe, at least -- no word on Japan thus far), DigiTimes has reported that console components will start shipping in June.
Some investors might wonder if Sony's pricing strategy is a sign of weakness. After all, if PlayStation 4 has more potential buyers than Xbox One, why would Sony charge less?
The answer might have more to do with Sony's own mistakes than anything the competition has to offer.
When Sony launched PlayStation 3 at $499 and $599, consumers did not respond favorably. They had paid $299 for both PSone and PlayStation 2 -- why should they have to pay more for a new console?
Sony attempted to justify the price hike by promoting the high-end graphics (a selling point of any new console), as well as the included Blu-ray player. Sony hoped to use PlayStation 3 to tip the scales in favor of the Blu-ray format, which was battling HD DVD for platform supremacy. Having witnessed the growth of standard DVD (which was heavily boosted by PlayStation 2), Sony hoped that PlayStation 3 could do the same for Blu-ray.
At the time of its release, PlayStation 3 was one of the cheapest Blu-ray players available. Thus, movie enthusiasts were eager to buy one. Gamers, on the other hand, were not.
Realizing that games are vastly more profitable for Sony than movies, and knowing that gamers are more likely to wait in line for PlayStation 4 than consumers who simply want to watch TV, Sony decided to make its new console all about games -- and sell it for a lower price.
These decisions have created a difficult situation for Microsoft, which must now convince consumers to spend $100 more for a console that comes with a similar game lineup and a number of restrictions that consumers don't want.
Louis Bedigian is the Senior Tech Analyst and Features Writer of Benzinga. You can reach him at 248-636-1322 or louis(at)benzingapro(dot)com. Follow him @LouisBedigianBZ
Posted-In: Microsoft PlayStation 4 Polygon Scott Rohde SonyNews Success Stories Tech Best of Benzinga
View Comments and Join the Discussion!