President Obama Set to Announce New Crackdown on 'Patent Trolls' Tuesday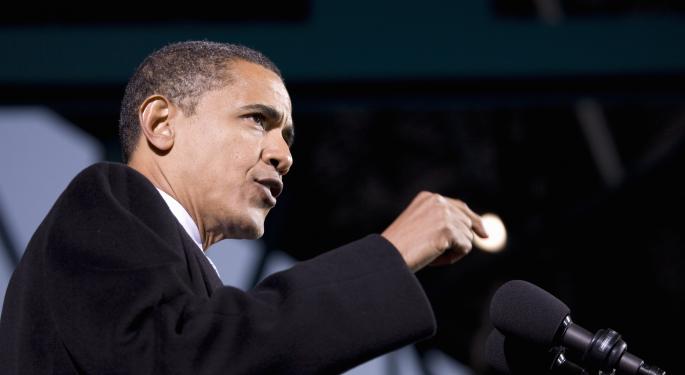 President Obama is set to announce a new round of patent legislation Tuesday aimed at curbing the power of patent-holding companies, commonly referred to as patent trolls. The curbs to the system come as the administration is concerned that these companies are abusing the patent system and disrupting competition in the market place.
New Policy Goals
The actions set to be announced by Obama include measures he wants Congress to pass that are aimed at firms that have sued technology, financial, and other institutions and driven the companies into costly litigation proceedings. "Patent troll" companies have publicly stated that they are doing nothing wrong and are merely operating within the rules of the Patent and Trademark Office.
To prevent unruly lawsuits, the administration plans to direct the Patent and Trademark Office to enter a rule-making process that aims at increasing the clarity of who exactly owns a patent. Businesses sometimes are sued by shell companies and don't always know who actually owns the patent they are being accused of infringing, and whether the firm holds other relevant patents. The administration also seeks Congress to pass laws that would allow monetary sanctions on companies who are deemed to file abusive lawsuits in court.
Another key tenet of the administration's plans is to reduce the use of the International Trade Court as a means of settling patent disputes and relying more on the patent court system. Recently, patent-holding firms have increasingly filed infringement claims at the ITC, which has jurisdiction over certain unfair trade practices and can bar the importation of products that infringe patents. The ITC process usually moves more quickly than a patent-infringement case in federal court.
Economic "Extortion"
The President has already openly criticized patent holding companies this year. He said some firms "don't actually produce anything themselves. They're just trying to essentially leverage and hijack somebody else's idea to see if they can extort some money out of them."
Trolling
Several companies have been identified as "patent trolls" by investors, companies who's only real source of business is suing others based on obscure patents. The rise of these companies has been the spark of the recent patent wars which has seen large companies such as Google (NASDAQ: GOOG), Apple (NASDAQ: AAPL), and Microsoft (NASDAQ: MSFT) come under pressure for patent infringement. In many of these cases, the companies incur large legal costs to defend themselves and usually end up settling out of court anyways.
One company notorious for patent trolling is VirnetX Holdings (NYSE: VHC). They are so up-front about their core business model that their business description via Reuters reads "VirnetX Holding Corporation is engaged in the business of commercializing a portfolio of patents."
Economic Debate
The regulations could move swiftly as the government has a serious economic rationale for regulating these companies. The massive lawsuits delay innovation and prevent competition, two key issues that would allow the government to make new regulation. If the government can prove that patent trolls are anticompetitive, it could shut them down all together under existing legislation.
Posted-In: International Trade CourtNews Previews Legal Events Intraday Update Markets Trading Ideas Best of Benzinga
View Comments and Join the Discussion!