Yahoo! Wants to Start Reading Your Email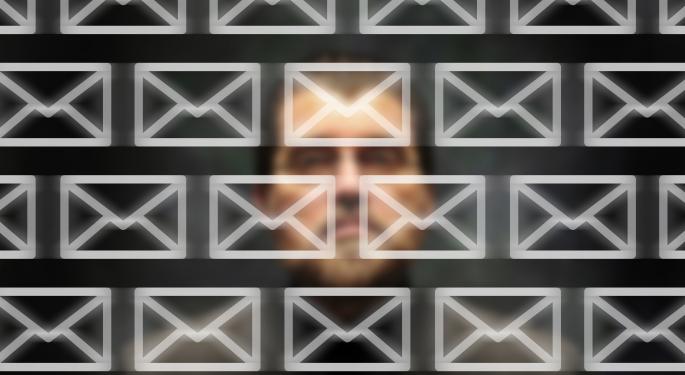 In a move described by Bloomberg as "creepy," Yahoo! Inc. (NASDAQ: YHOO) Monday began telling users of their popular email service that they must agree to have their email messages (incoming and outgoing), as well as instant and SMS messaging scanned and analyzed to help drive targeted ads.
Oh, and to provide for spam and malware detection and abuse protection.
The idea is to put more (and more focused) advertising in front of Yahoo users. Advertising is a main revenue driver for Yahoo, Google, Inc. (NASDAQ: GOOG), Microsoft Corp. (NASDAQ: MSFT) and others in the online information game.
Apparently, not everyone finds the scanning of email messages "creepy." According to Bloomberg, Yahoo and Google have been adding email customers over the past six months. Ironically, Microsoft, which has mounted an advertising campaign attacking Google's advertising tactics, is losing email customers. So much for privacy concerns.
Yahoo is taking a "my way or the highway" approach. Users either agree to the new policy or find another email provider. This hard lined stance might alienate customers, including users of Yahoo blogging acquisition, Tumblr, which also recently announced it would start running ads on that service.
Targeted ads work – how well is difficult to nail down. Bloomberg said Google doesn't break its ad revenue down by service, so determining the percentage of revenue attributable to scanned email targeted ads is not possible.
comScore, Inc.(NASDAQ: SCOR) said Yahoo's email service is the most popular in the U.S. – bigger than any rival. That means the potential payoff for Yahoo is huge. Since millions of Google Gmail users are OK with scanned email, Yahoo can't afford to ignore this gravy train any longer – especially if it wants to compete.
As CNET pointed out, Yahoo's big policy change isn't a change at all. It turns out that Yahoo Mail's terms of service, adopted in 2011, specifically say the company has the right to "scan and analyze all incoming and outgoing communications content sent and received from your account." Furthermore, the policy indicates that said scanning can be used to "match and serve targeted advertising" to users.
Yahoo representative DJ Anderson said, "We believe having personalized experiences benefits the user. If the user doesn't want to have contextual-based or interest-based advertising, they can opt out of that through our ad interest manager."
In other words, you can't stop the scanning, but you can fine-tune the types of ads you will see.
At the time of this writing, Jim Probasco had no position in any mentioned securities.
View Comments and Join the Discussion!
Posted-In: comScore Google Inc.News Topics Events Tech General Best of Benzinga