'Fast & Furious 6' Earns $120 Million in Four Days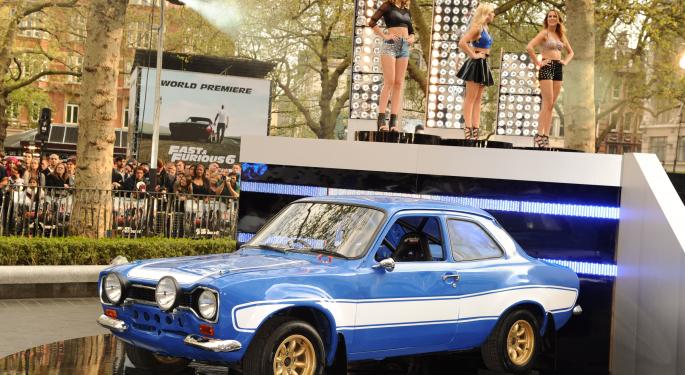 Universal's Fast & Furious 6 sped past the competition last weekend with a three-day haul of nearly $100 million, setting a new record for the studio.
According to Bloomberg, the film earned $98.5 million during the first three days at the box office (Friday, May 24 through Sunday, May 26).
While the final ticket sales have not been tabulated for the four-day weekend, the film is estimated to have earned a total of $120 million through Memorial Day.
The Hangover Part III, the other big film released during the holiday weekend, earned $41.7 million. Under normal circumstances, this would be considered a huge win for Time Warner (NYSE: TWX).
R-rated films tend to have a difficult time at theaters because of the limited sales potential. While PG-13 films can be seen by almost anyone, R-rated films are intended for those who are 17 years or older. Adults can purchase tickets for minors, but that restriction puts a strain on box office receipts.
Over the last five years, only three R-rated films made enough money to earn a spot among the annual top 10 domestic grosses. Two of those films were from The Hangover series -- the other was Universal's Ted.
The original Hangover grossed $44 million during its opening weekend. By the time the film concluded its box office run, The Hangover had earned more than $277 million domestically.
The Hangover Part II earned less overall ($254 million domestically) but sold tickets at a faster rate, earning $85.9 million during its opening weekend.
This is what makes the ticket sales of The Hangover Part III so disappointing for Warner Bros. and its parent, Time Warner.
Fast & Furious 6, on the other hand, defied sequel expectations by earning more last weekend than any of its predecessors.
Comparatively, Disney's (NYSE: DIS) Pirates of the Caribbean: On Stranger Tides (the fourth chapter in the series) earned $24 million less than its predecessor, Pirates of the Caribbean: At World's End, during its opening weekend.
Likewise, Dimension's Scream 4 earned $18.6 million when it first arrived in theaters on April 15, 2011 -- far less than Scream 3 ($34.7 million) and Scream 2 ($32.9 million).
While Sony's (NYSE: SNE) The Amazing Spider-Man is technically a reboot, it is also the fourth film in the studio's string of Spider-Man flicks. It opened on a Tuesday and earned less in six days than Spider-Man 3 made in one weekend.
This is a common trait for movie sequels, but the Fast & Furious series has been different. Fast and Furious (the fourth film) earned more than its predecessors at a time when the franchise was expected to die off. Tokyo Drift more or less flopped at the box office with only $23.9 million earned during its opening weekend.
Unlike the other films in the franchise, Tokyo Drift did not feature any of the main actors from the series. When Vin Diesel, Paul Walker, Jordana Brewster and Michelle Rodriguez returned for the fourth film, moviegoers headed back to theaters.
With at least three more chapters already being planned, it seems that the Fast and Furious series could prove to be one of the most valuable parts of Comcast's (NASDAQ: CMCSA) acquisition of NBCUniversal.
Louis Bedigian is the Senior Tech Analyst and Features Writer of Benzinga. You can reach him at 248-636-1322 or louis(at)benzingapro(dot)com. Follow him @LouisBedigianBZ
View Comments and Join the Discussion!
Posted-In: Bloomberg Fast & Furious 6 nbcuniversal Universal PicturesNews Success Stories Media Best of Benzinga