Review: Using the Uber App For an Epic Ride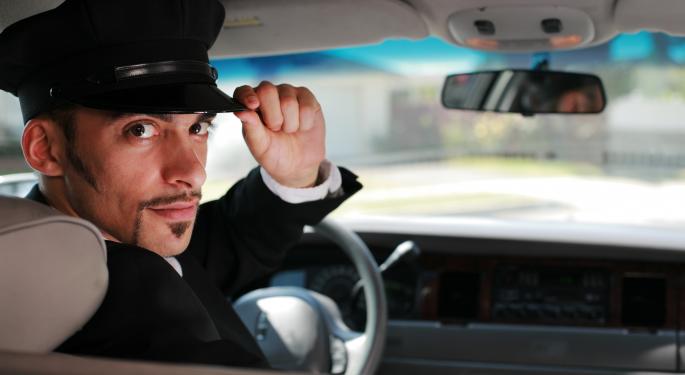 Uber wants to be your new private driver.
And If Benzinga's experience is any indication, there should be little hesitation on your part.
Founded in San Francisco in 2009, the goal of Uber is to connect passengers with drivers of luxury vehicles for hire. It's a mission that it accomplishes very well.
Our Uber experience took place in Metro Detroit, but the mobile app startup has a presence in major cities across the country and plenty of locales abroad.
From Paris to Singapore, Uber has quickly developed a passionate following around the globe and doesn't intend to slow down. The company is planning to expand its operations even further.
By all accounts, this is the new premium standard for the smartphone generation.
A personal driver, a ride in a spacious luxury car and the seamless, sleek mobile app that integrates it all are all calling cards for Uber.
The phone app allows you to track the location of their reserved car -- feel free to call it an "Uber" -- ranging from the moment you request a ride until the driver lets you out at your front door.
Join Benzinga on our Friday night journey to see what the Uber experience delivers. Pros and cons of the service, they're all in our exclusive slideshow.
Friday night: Like any normal group of twenty- and thirtysomethings, it's time to hit Zap Zone!

Time for go-karts, topped off by some intense and sweaty rounds of laser tag.

Of course, our experience wouldn't be complete without some pizza and pop...

Time for Uber! Ten minutes before leaving, we logged on to the app to summon our private driver.




When you first sign up for Uber, you'll be prompted to enter your name, email address, phone number and credit card information.

Uber links to your credit card to streamline and hasten the pay process. It sends updates about the status of your ride via text and invoices via email. The app is quick and convenient. Its interface is sleek and super easy to navigate.

First, Uber tracks your whereabouts and asks you to confirm the pick-up location.




Our reserved car is ready to pick us up. It's surprisingly close to Zap Zone. Our driver would later tell us that Uber's contracted cars are scattered across the metro areas where it has a presence.

After choosing your pick-up location, you get to check your fare estimate or enter a promo code. This is your final step before choosing a car.




There's one thing I think could be improved upon in the app. Both my friend and I missed the Fare Estimate feature (red outline added) our first time. Perhaps if the Fare Estimate were visible during the route as well, it would stand out more.

It's on its way!




One of the cool things about Uber is being able to check the progress of our vehicle, its make and model, what the driver looks like, his rating and the Uber's estimated arrival. The little car actually moves in real-time!

After 10 minutes, our Uber appeared, right on time.

There It is! A Lincoln Town Car, as promised, right on time.

Uber prides itself on providing passengers with a luxurious experience and they did not disappoint. After 10 minutes, a Lincoln Town Car pulled up and we got inside after snapping a few photos.

We learned that our driver, who we'll call Walter, is given a range of addresses (see slide 6) instead of our exact location. This can be troublesome, as we were waiting in a parking lot adjacent to another parking lot within the range of addresses. Walter entered the wrong lot on the first try, but we managed to catch him by keeping up with the app's map.

Our driver, Walter, just HAD to show us all up in the dress department.

Our driver showed up in spiffy dress clothes, with a jacket and slacks, capped off by a tie. Walter was extremely patient with our requests to take pictures and very courteous when it came to answering our questions. He opened our doors for us.

Walter explained to us that the Uber service has grown in popularity in Detroit in recent months. He's contracted from a local limousine service, but occasionally Uber will take up his entire day.

Sometimes he hangs out downtown, where he'll get five or six calls back-to-back. His clients' age varies, but many are business people or folks getting out of the bars, seeking a safe alternative to driving home.

The interior of the Lincoln was cozy, comfortable and just the right temperature.

The interior of the car was spacious and comfortable, as we expected. There was ample leg room. Walter was extremely courteous, checking to see if the car's temperature was okay. It was.

In the right half of the photo, you can see the mounted smartphone that Walter used to run the Uber app while driving. It provided him with my basic information and displayed a real-time map with the tiny moving car most of the ride.

In the back seat was an armrest containing a cupholder. Perhaps the only gripe about the car's interior was the fact that the cupholder was filled with an empty bottle and several empty wrappers of what appeared to be complimentary breath mints.

Uber e-mailed me an invoice literally right after the ride was over. The total was $117.

The Uber service got my friend and I home without a hitch. The service was classy and comfortable, as promised. From opening our doors, to our driver's courteous composure, it truly defined a VIP experience.

Of course, that didn't come without paying a steep price. $117 is a lot of money for a 40 mile trip, and even Uber CEO Travis Kalanick

told CNET

that fares cost "50 percent to 75 percent more than a conventional taxi."

For young professionals and individuals with a share of disposable income, however, Uber is the way to go -- especially if you're inebriated. The seamless and incredibly convenient app makes pick-ups hassle free when compared to a standard cab. The guarantee of a luxury ride mitigates the risk of a nightmarish driver, ensuring a quality experience.
Posted-In: Lincoln Metro Detroit mobile apps Town Car UberNews Tech Reviews Best of Benzinga
View Comments and Join the Discussion!