Will Illinois Businesses Head South?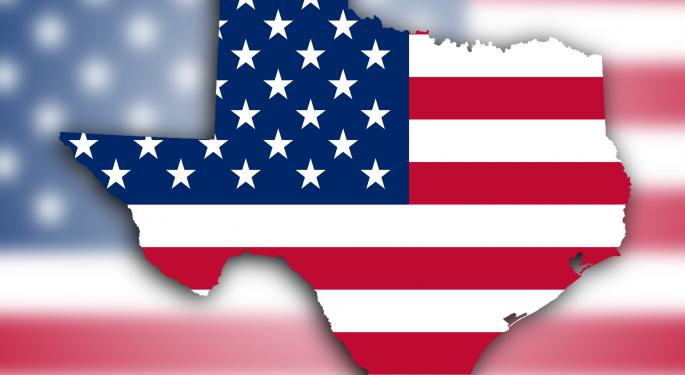 Illinois has had its share of fiscal woes in recent times and another big one just landed on its plate.
Texas Governor Rick Perry recently made headlines for visiting the "Prairie State" on an alleged job raiding expedition, with some radio ads to go along with his onsite recruiting. The purpose of which was said to lure Illinois businesses to the "Lone Star" state.
Perry's visit wouldn't have been much more than a media circus if it weren't for the vast differences in the business climates of the respective states. He undoubtedly realizes he can leverage his state's relatively business-friendly environment against the fiscal and regulatory woes in Illinois.
Illinois business leaders have become increasingly-concerned with the state's business climate, with taxation being the most common complaint. Various major companies have threatened to leave in recent years. In 2011, CME Group (NASDAQ: CME) and Sears (NASDAQ: SHLD) threatened to leave over a tax hike, Reuters reported, although neither has done so to date.
And, in September of 2012, Crain's reported sandwich chain Jimmy John's owner Jimmy John Liautaud moved forward on a promise to leave the state for the same issue, at least in part, indicating he'd move its licensing division to Florida in 2013. He noted this was just the start and the company would probably be based in Indiana or Texas in four years, as noted Crain's.
Other companies have threatened to leave the state in recent years, as well, including heavy-hitters like Caterpillar (NYSE: CAT) and Motorola (NYSE: MSI). Rumors surfaced earlier this year that State Farm might move elsewhere, including in this Forbes piece, although the company has yet to announce such plans.
Overall, Chief Executive magazine ranks Illinois' business climate as third-worst.
Meanwhile, Texas ranks first on the aforementioned list. Importantly, it has had plenty of success raiding the economies of other states, namely California.
A visit to any major city in Texas, particularly Austin, feels a lot like California these days. It pulled a net of over 225,000 residents from the Golden State between 2000 and 2010, according to the Manhattan Institute. Overall, Texas has lured more Californians than any other state - and they aren't moving for the weather.
The economy in Texas has fared better than the rest of the nation both during the financial crisis and beyond, with the top four cities for finding good jobs located within its borders. With its business-friendly environment and overall booming economy, the state may prove a tempting option for Illinois businesses or, at the very least, force Illinois policymakers to reconsider their stances.
Will businesses leave the "Prairie State" for the hotter, drier prairies of the "Lone Star" state? Time will tell. One thing is very clear, however: the temptation is certainly there and, if Perry's success in luring businesses from economically-troubled California is any indication, Illinois is in for a tough battle to retain its own businesses.
View Comments and Join the Discussion!
Posted-In: Jimmy John Liautaud Jimmy John's Rick PerryNews Politics General Best of Benzinga