Google Pays $1 for a $39 Million Fiber-Optic System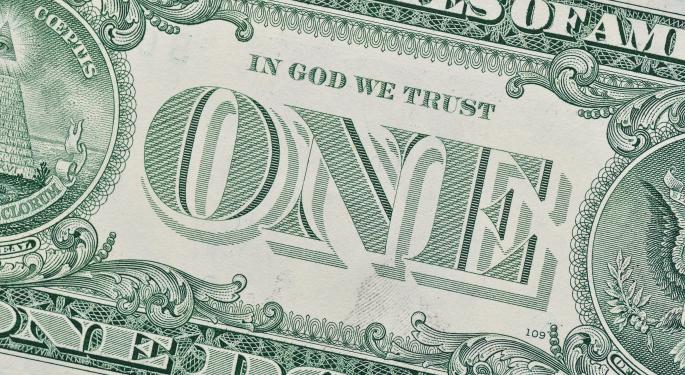 Google (NASDAQ: GOOG) went to the dollar store this week.
however, instead of buying cheap knickknacks from Dollar Tree (NASDAQ: DLTR), Google went shopping for a municipal fiber-optic system in Provo, Utah, that cost $39 million to build.
According to the Associated Press, the deal is "widely expected to be approved Tuesday by the City Council, making Provo the third city selected by Google for high-speed Internet and television service."
This would mark the company's third attempt at expanding Google Fiber, the company's Internet and pay-TV service. Google has already rolled out the service in Kansas City, Kansas and Kansas City, Missouri. This month the search engine giant confirmed that it will bring Google Fiber to Austin, Texas.
Google announced its plans to expand to Provo earlier this week. The company launched a new website to promote the service's debut.
"Utah is already home to hundreds of tech companies and startups, and many of them are based in Provo," Kevin Lo, General Manager of Google Fiber, wrote in a blog post.
"In fact, the Provo area ranks second in the nation in patent growth, and is consistently ranked as one of the top places to live and do business in the U.S. We believe the future of the Internet will be built on gigabit speeds, and we're sure the businesses and residents of Provo already have some good ideas for what they'd build with a gig."
If the plan does not work out, Google can sell the system back to Provo for $1.00, making it one of the most favorable deals in the company's history.
Normally Google would have to pay more, but Provo has struggled to build out the existing fiber-optic system. According to AP, residents were charged $5.35 on their utility bill whether they use the service or not. Even with that charge, the system has not been able to support itself.
By selling it to Google, Provo hopes that it will finally be able to provide its residents with fast and reliable Internet access.
Typically Google charges $300.00 for the so-called "free" version of Google Fiber, which provides users with low-speed broadband (up to 5Mbps download) for several years. In Kansas City, customers are guaranteed to receive the free service for at least seven years.
Since Provo residents already pay more than $5.00 a month for Internet, they will only be charged a one-time activation fee of $30.00 for the 5Mbps option. Prior to the Google deal, Provo residents had to pay a fee of $700.00 to access the service.
Google has not said how much it will charge Provo residents for a faster, more robust Internet experience. In Kansas City, residents pay $70.00 a month for download and upload speeds of up to one gigabit. Unlike the Xfinity Internet service provided by Comcast (NASDAQ: CMCSA), Google Fiber does not currently employ any data caps.
Google also offers an Internet and pay-TV service combo in Kansas City that retails for $120.00 per month. This service comes with more than 170 cable channels, several local channels (depending on your area), and optional add-ons like HBO, Showtime and Cinemax.
Louis Bedigian is the Senior Tech Analyst and Features Writer of Benzinga. You can reach him at 248-636-1322 or louis(at)benzingapro(dot)com. Follow him @LouisBedigianBZ
View Comments and Join the Discussion!
Posted-In: Cinemax Google Fiber HBO Provo ShowtimeNews Success Stories Tech Best of Benzinga