Retail Sales Unexpectedly Fall 0.4 Percent, Discretionary Categories Weak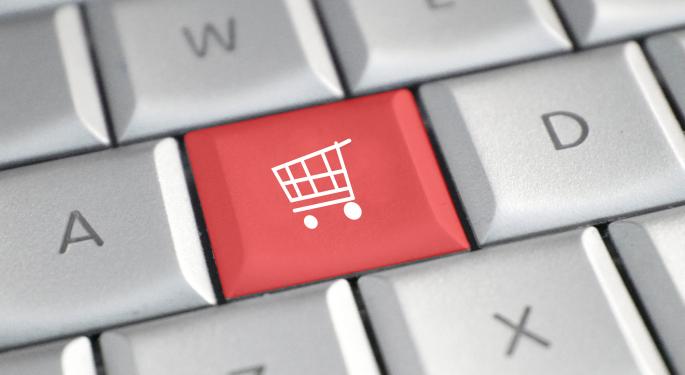 March retail sales fell 0.4 percent in a report released Friday morning from the U.S. Census Bureau at the Department of Commerce. This was the biggest drop in nine months, and economists were expecting sales to be unchanged.
Excluding motor vehicles and parts, which fell 0.6 percent, retail sales dipped 0.4 percent. Auto sales had posted a 1.3 percent increase in February, so some giveback in this category might be expected.
Auto sales, up 7.4 percent from a year ago, reflects attractive financing along with an average age of cars on the road at a record high, spurring replacement demand.
Note that auto sales category in this report includes both used and new cars and trucks, unlike the vehicle sales data that includes just new autos. For new vehicle sales, data released earlier this month showed sales falling to a 15.2 million annual rate from 15.3 million the prior month, according to Ward's Automotive Group.
The details showed weakness in a number of discretionary categories.
General merchandise stores, which include both department stores as well as those which sell "everything," dropped a sharp 1.2 percent after gaining 0.2 percent in February. The subcategory of department stores showed more persistent weakness, falling 1.1 percent after a 1.4 percent drop in the prior month. Over the past twelve months, department store sales fell by a large 7.6 percent.
Electronics and appliance store sales dropped 1.6 percent after dipping 0.3 percent in February. On the other hand, furniture and home furnishing stores rebounded 0.9 percent, only partially reversing the 1.4 percent retreat in February. Clothing sales, a less discretionary item, inched up 0.1 percent after a 0.3 percent drop the month before.
Health and beauty store sales fell 0.3 percent after dipping 0.1 percent in February. This includes both discretionary and less-discretionary items. In a category that tends to be more discretionary, the category of sporting goods, hobby, book and music stores fell 0.8 percent after a 0.2 percent gain in February.
Some of these retreats in bricks-and-mortar stores reflect growing online sales. Non-store retailers, which include on-line venues as well as venues such as movie theaters, advanced 0.3 percent, building on the 1.4 percent gain in February. And miscellaneous store retailers advanced 0.8 percent after a 0.2 percent dip in the prior month.
Consumers did go out to eat a bit more in March, as restaurant and bar sales rose 0.7 percent, after a 0.5 percent dip in February. Food purchased at grocery stores, meanwhile, fell 0.1 percent.
People dining out instead of eating in may reflect gas prices that have receded a bit, as gasoline sales fell 2.2 percent. The average cost of a gallon of regular fuel at the pump dropped about 13 cents to end last month at $3.63, according to AAA.
Because the Retail Sales report is not adjusted for inflation, volatility in prices, especially for categories such as gasoline and food, will cause fluctuations in the sales figures in this report independent of quantity consumed. When the Consumer Price Index is released next week, we will be able to apply a rough estimate of how price changes affected sales in inflation-adjusted terms.
The retail sales category used to calculate GDP, which excludes auto dealers, building-material stores and service stations, sales fell 0.2 percent after a 0.3 percent increase in the previous month. The pullback in retail sales probably reflects the end of the payroll tax holiday, in which the taxes used to fund Social Security reverted back to 6.2 percent from their temporary 4.2 percent.
The payroll tax holiday was meant to stimulate the economy, and its end likely will cause some consumers to restrain their shopping.
Posted-In: News Retail Sales Economics Markets Best of Benzinga
View Comments and Join the Discussion!