The Number-One Mistake Investors Make During Tax Season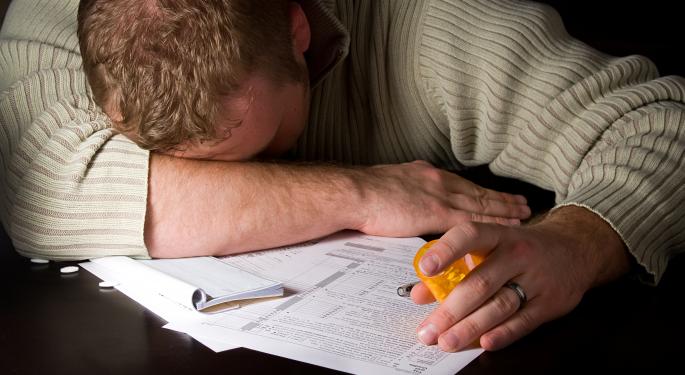 There are only 10 more days for Americans to pay their taxes.
Those who haven't paid may be starting to scramble, turning to H&R Block (NYSE: HRB) for last-minute assistance. Others may be choosing to file their own taxes with the help of Intuit's (NASDAQ: INTU) TurboTax.
Either way, GoodApril founders Benny Joseph and Mitchell Fox told Benzinga that there is one mistake investors should avoid making.
"Probably the number-one mistake is, for investors, not harvesting capital losses from their brokerage accounts," said Fox. "If you made $5,000 in gains this last year that are sitting on top of a few losers, you're doing yourself a disservice to not recognize that loss and reinvest and make a new strategy for the year ahead. Those losses that you recognized offset your income directly and are probably the biggest single thing that someone can use to pay less in taxes -- assuming that they are an active investor."
Fox and Joseph are not accountants, but they founded GoodApril with the goal of helping others save money on their taxes. They enlisted in the help of Claudia Hill (a nationally recognized tax professional) to build and refine GoodApril's tax planning solution.
"GoodApril is really trying to reinvent the way that Americans plan for and file their taxes," said Fox. "There's a huge gap between when you file and the next time you file. Most people don't have any type of advice or suggestions for how they could improve their situation year over year."
GoodApril aims to prepare taxpayers by encouraging them to upload their tax returns to the site.
"What we do is analyze that tax return," Fox explained. "We run our algorithms. We also see what new tax rules have been passed as a result of Obamacare and the Fiscal Cliff, and how this is going to affect you, so that next year you have an idea of what to expect."
While anyone can use the service, Joseph said that the majority of GoodApril's customers are those who handle their own taxes.
"Most people are TurboTax customers," he said. "I think the impression we have after speaking to a number of them is that they're looking for a way to be a little bit more confident that they're handling their taxes appropriately, that they're not missing out on big savings opportunities, and they don't have the benefit of an accountant to ask that question to. It's more of a financial do-it-yourselfer."
GoodApril's service is currently free. The company has found that some individuals may be willing to pay for its service (or additional services) in the future, but it fully intends to continue offering a free version for everyone else.
Instead of relying on its users for revenue, GoodApril is forming a number of lead generation partnerships.
"There's a company we worked with called Shoebox that helps customers keep track of their tax receipts," said Joseph. "We expect to increase the number of lead generation partnerships that we work on."
Before GoodApril, Joseph served as the lead engineer of E*TRADE's (NASDAQ: ETFC) real-time math engine. He met Mitch while they were working for Zecco, which was acquired by TradeKing last year.
Louis Bedigian is the Senior Tech Analyst and Features Writer of Benzinga. You can reach him at 248-636-1322 or louis@benzingapro.com. Follow him @LouisBedigianBZ
View Comments and Join the Discussion!
Posted-In: Benny Joseph E*TRADENews Politics Success Stories Startups Tech General Best of Benzinga