Apple's iRadio Could Sink Pandora - But Not Spotify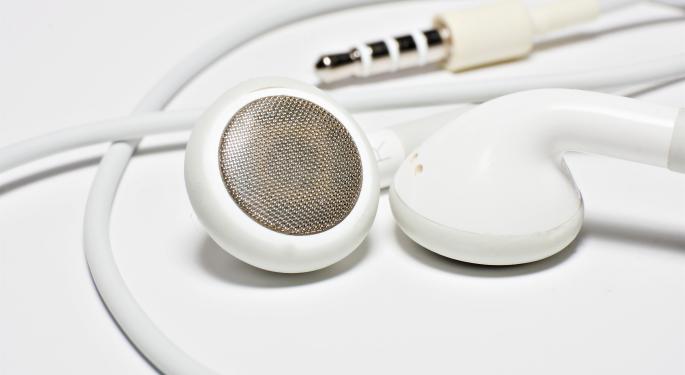 Apple (NASDAQ: AAPL) may be gunning for world domination of the streaming music industry, but a new report indicates that it may only have what it takes to lead online radio.
According to CNET, Apple is inching closer to a deal with Warner Music Group and Universal Music Group.
Sony (NYSE: SNE) has yet to come aboard, but it seems likely that it will if the other major labels decide to sign with Apple.
Interestingly, Apple is reportedly working on a way to make up for its per-stream payment plan, which is rumored to pay half of what Pandora (NYSE: P) offers.
CNET's sources claim that labels are asking for a 35 to 45 percent share of all ad revenue. If Apple agrees to those terms, it could ultimately provide labels with larger checks than they are currently receiving from Pandora.
That, however, assumes that Apple can sell enough ads to raise revenue.
Radio ad sales would be a new business for the Cupertino, California-based tech giant. The company has enough resources to hire the best sales team in the world, which should help reduce the inevitable hurdles Apple may have to overcome. Even so, content businesses are far from easy.
Statistically, consumers do not seem to be very fond of ads. One 2010 study showed that as many as 40 percent of 18-to-24-year-olds dislike the ads displayed on Hulu and YouTube.
Those complaints have not translated into revenue declines, however. In fact, Hulu revenue rose significantly in 2011 and in 2012. Paid subscriptions increased from 1.5 million in 2011 to three million in 2012.
This could be why YouTube is eyeing a paid subscription model.
Even without paid users, YouTube still provides Google with billions of dollars in annual revenue.
Thus, Apple may not be afraid of turning off users with a plethora of ads. At the end of the day, it knows consumers will listen anyway -- if the service is compelling enough.
Apple also has the benefit of pushing its new music service to 400 million iTunes account holders. If just 15 percent of those users started playing music on iRadio, Apple would have enough listeners to overtake Pandora, which had 54 million active users in October.
That would be huge for Apple -- but it may not be enough to dominate the streaming music business.
Thus far, every iRadio rumor (including the one from CNET) has stated that Apple will not provide an on-demand listening service. Instead, Apple plans to create an online radio service with songs that play at random. There may be playlists and customization features to improve the listening experience, but it will not offer the on-demand content provided by Spotify or Rhapsody.
Spotify currently has 24 million active users worldwide, including six million paid users.
Rhapsody is far smaller with only a million subscribers, but it plans to expand in Europe later this year.
These are small fries compared to Pandora and the potential of Apple's radio service. Spotify is growing very quickly, however. It is one of the few music services that offers a free, ad-supported option for on-demand music streaming. Without a comparable option, Apple may find it difficult to wipe Spotify off the map.
Louis Bedigian is the Senior Tech Analyst and Features Writer of Benzinga. You can reach him at 248-636-1322 or louis@benzingapro.com. Follow him @LouisBedigianBZ
Posted-In: Apple iRadio Rhapsody SpotifyNews Rumors Success Stories Tech Best of Benzinga
View Comments and Join the Discussion!