Non-Farm Payrolls Up Just 88,000, Well Below Expectations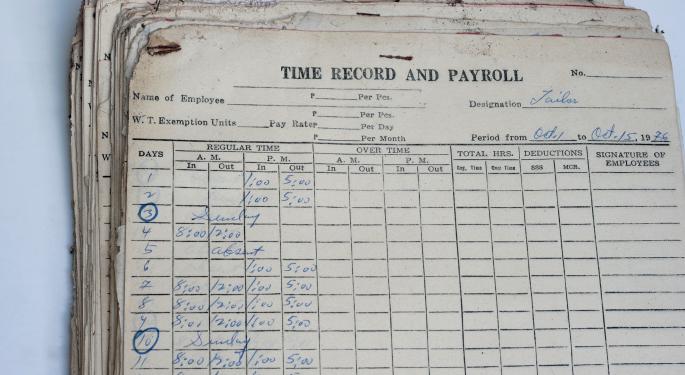 The Bureau of Labor statistics reported Friday that non-farm payrolls increased by a scant 88,000, far below expectations of 190,000 to 200,000 new jobs.
On the plus side, though the jobless rate inched down to 7.6 percent from 7.7 percent. And previous months' job gains were revised higher. The change in total non-farm payroll employment for January was revised from +119,000 to +148,000, and the change for February was revised from +236,000 to +268,000.
However, the drop in the unemployment rate was due to people leaving the labor force, not because they found jobs. In the household survey, the number of employed people fell by 206,000. The number of the unemployed fell by 290,000 as many discontinued their job search; those "not in the labor force" increased by 663,000.
Adding in population gains of 167,000, and the civilian labor force declined by 496,000 over the month. The labor force participation rate decreased by 0.2 percentage point to 63.3 percent, while the employment-population ratio fell to 58.5 percent from 58.6 percent.
We did have gains in professional employment, at 51,000 new jobs in March, but 20,000 of those were temporary workers. In the current environment, new temporary jobs is probably not a leading indicator but instead reflects uncertainty of how the sequester will affect the economy. Also in this category, we see that accounting and bookkeeping services added 11,000 jobs over the month.
A staple in job creation during the recovery, health care added 23,000 new workers, similar to the prior 12-month average. We'll have to wait and see if budget cutbacks to entitlement programs, heretofore viewed as untouchable by Democrats, may eventually cause lower Medicare and Medicaid health care spending in the future, resulting in slower health care job growth at some point down the road.
Of course, health care is not an economically sensitive area, and job growth here reflects more of an aging population than a growing economy.
Construction employment continued to trend up in March (+18,000). Job growth in this industry picked up this past fall; since September, the industry has added 169,000 jobs. These tend to be more middle-skill, middle-class jobs and this contrasts with Wednesday's ADP report that showed no new jobs created in the sector.
Some analysts had feared that a give-back from construction hiring following Hurricane Sandy would lead to fewer new jobs created in March.
Jobs in manufacturing fell by 3,000, while finance lost 2,000 jobs. Many other sectors saw little change in the number of jobs. Due to the U.S. Postal Service cutting 12,000 jobs, government employment fell by 7,000 workers.
Continuing a string of employment gains in at least one low-wage sector, food services added 13,000 jobs. Over the past year, the industry added 262,000 jobs. Meanwhile, retail trade employment declined by 24,000. The industry had added an average of 32,000 jobs per month over the prior six months, so this reversal might be expected sooner or later.
The average workweek for all employees on private non-farm payrolls increased by 0.1 hour to 34.6 hours. The manufacturing workweek decreased by 0.1 hour to 40.8 hours, and factory overtime rose by 0.1 hour to 3.4 hours. The average workweek for production and nonsupervisory employees on private non-farm payrolls was unchanged at 33.8 hours.
In March, average hourly earnings for all employees on private non-farm payrolls, at $23.82, changed little (+1 cent). Over the year, average hourly earnings have risen by 42 cents, or 1.8 percent.
However, due to the slightly longer workweek, average weekly pay for all workers increased 0.36 percent, and is 2.1 percent higher than a year ago, not adjusted for inflation. Coupling in more people working and a longer workweek, and the index of aggregate weekly payrolls increased by 0.5 percent. This will feed into other data on consumer incomes.
Looking at just non-managerial jobs, average hourly earnings of private-sector production and nonsupervisory employees, at $20.03, changed little (-1 cent) in March.
In March, the number of long-term unemployed (those jobless for 27 weeks or more) fell by 186,000 to 4.61 million. These individuals accounted for 39.6 percent of the unemployed.
In March, 2.3 million persons were marginally attached to the labor force, essentially unchanged from a year earlier. Among the marginally attached, there were 803,000 discouraged workers in March, little changed from a year earlier, but down 82,000 over the month. (These data are not seasonally adjusted.)
Factoring in discouraged workers and involuntary part-timers, and the broad U-6 unemployment rate decreased to 13.8 percent from 14.3 percent, primarily due to the 230,000 drop in the number of involuntary part-timers.
Posted-In: News Economics Markets Best of Benzinga
View Comments and Join the Discussion!