Why Some Malls Thrive While Others Lag Behind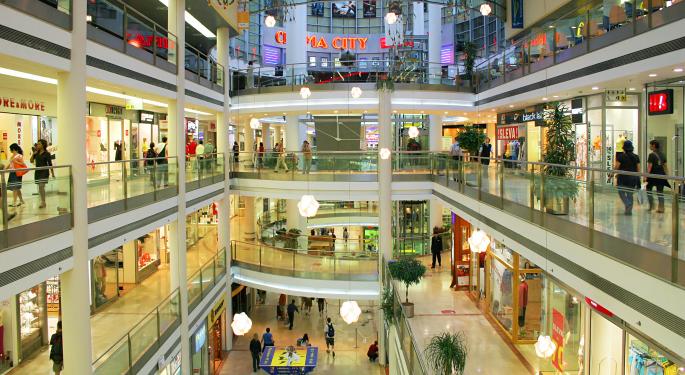 It's a tale of two types of malls.
One, a neighborhood strip mall, typically anchored by a grocery or drugstore. The other, a large regional shopping center, anchored by several large retailers like Sears (NASDAQ: SHLD), J.C. Penney (NYSE: JCP), and Macy's (NYSE: M) with smaller specialty stores sandwiched in between.
According to a report released Thursday by real estate research firm Reis Inc., the overall national vacancy rate for malls dropped in the first quarter to 10.6 percent from 10.7 percent the previous quarter.
This, Reis said, happened despite the fact that smaller neighborhood strip malls continued to suffer from soft consumer demand and increased competition from online retailers.
These neighborhood shopping centers added only 873,000 square feet, in the first quarter, according to preliminary figures. This was the fourth-lowest amount of space added since Reis Inc. began tracking the sector in 1999.
In fact, since the recovery began, the national vacancy rate for neighborhood strip centers is only half a point lower than the high of 11.1 percent reached in 2011.
Large regional malls, however, continue to show much better numbers. Their vacancy rate fell for the sixth straight quarter, down 0.3 points to 8.3 percent, the steepest decline in 10 years.
Reis attributed the results for both neighborhood strip centers and regional shopping centers to the income divide between affluent areas that house large malls, and the rest of the country. In other words, malls that cater to the wealthy thrive. Because of a less than robust economy, others do not.
The Wall Street Journal pointed out that over the past 20 years far more construction of strips centers, big-box centers and other retail formats took place than of regional malls.
Strip centers also typically tend to house more mom-and-pop stores and franchises than malls. Those smaller tenants have been among the slowest to bounce back from the recession.
Competition from Internet shopping along with closings and mergers by anchor tenants have continued to hurt strip malls and regional shopping centers alike. Examples include store closures brought on by the merger of Office Depot (NYSE: ODP) and OfficeMax (NYSE: OMX), as well as concern about possible store closings by J.C. Penney, to name a few.
As a result, investors have continued to keep their eye on real estate companies that own malls and shopping centers in dense metro areas and wealthier suburbs.
These include: Simon Property Group Inc. (NYSE: SPG), General Growth Properties Inc. (NYSE: GGP), Taubman Centers, Inc. (NYSE: TCO), Kimco Realty Corporation (NYSE: KIM), and Equity One Inc. (NYSE: EQY)
Posted-In: News Wall Street Journal Retail Sales Events Small Business Media Trading Ideas General Best of Benzinga
View Comments and Join the Discussion!