Companies Scrambling to Gain Cloud Market Share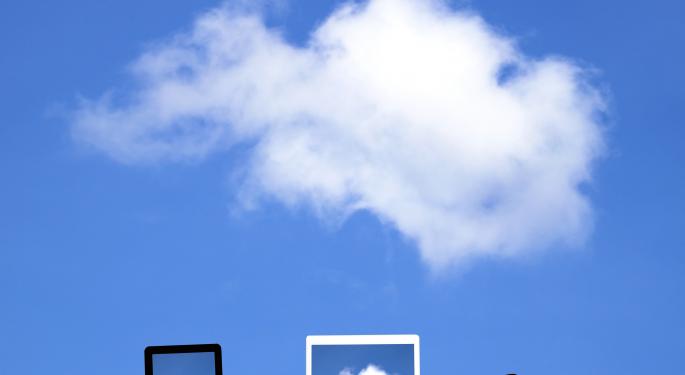 Monday's announcement by Amazon (NASDAQ: AMZN) that its Cloud Drive desktop app now syncs files across various devices puts the company on par with cloud competitors like Dropbox and others that have long offered that capability.
Amazon, which offers 5GB of free storage with a basic account, is actually a late entry into "all-sync" game. Apple (NASDAQ: AAPL) came out with its iCloud 5 fully synchronized service in 2011. A basic iCloud account also comes with 5 GB of free space.
Others offering free fully synchronized storage include Google (NASDAQ: GOOG) Drive, which also includes 5 GB and Microsoft (NASDAQ: MSFT) Skydrive which comes with an even more generous 7 GB at no cost.
With so many companies offering free synchronized cloud storage, the question is, does it matter?
It might. Engadget recently reported a study by Strategy Analytics designed to show just who ruled the cloud services landscape. In order, the top four are Apple (iTunes Match/iCloud) with 27 percent market share, Dropbox with 17 percent, Amazon has 15 percent, and Google, 10 percent.
Several companies share the remaining 31 percent. None has more than 4 percent of the market.
Amazon's move, Monday, was clearly designed to make its cloud service competitive with both Dropbox and Apple.
A telling statistic that comes out of the Strategy Analytics study is that 55 percent of respondents have never even used a cloud media service. This represents enormous potential for whoever captures that population.
It may also explain why Red Hat, Inc. (NASDAQ: RHT),  according to Investor's Business Daily, just hired former Microsoft virtualization and cloud executive,  Radhesh Balakrishnan, to bolster its effort to crack the virtualization software market in an attempt to be competitive with VMware (NYSE: VMW) and Microsoft.
Virtualization is a key component for companies adopting cloud-based computing, including both storage and data access over the Internet.
Finally, gaining cloud storage market share isn't the only goal of tech companies.
eWeek reports that a new Synergy Research Group study showed IBM's (NYSE: IBM) share of the cloud infrastructure equipment market has hit a two-year high, at more than 19 percent.
Synergy Research Group's founder and Chief Analyst Jeremy Duke said in a statement, "Cloud usage is now booming and this is driving continued high levels of investment in cloud infrastructure."
Whether a company is on the storage or infrastructure side, investors will continue to monitor how aggressively they go after respective market shares.
Posted-In: Amazon Apple Google IBM MicrosoftNews Retail Sales Tech Best of Benzinga
View Comments and Join the Discussion!