Chinese Manufacturing Underperforms in March; Raises Fears of Another Summer Swoon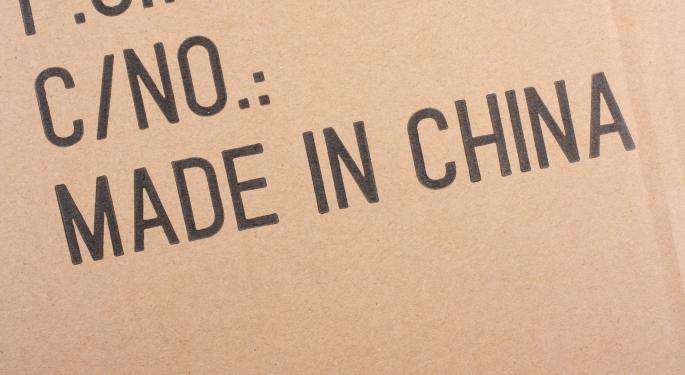 Two broad measures of Chinese manufacturing pointed to weakness in March following declines in February. The manufacturing weakness raises fears of the global economy once again experiencing a summer slowdown as it has in the previous three years.
First, the official Chinese Manufacturing PMI was released by the National Bureau of Statistics. The report showed that manufacturing output did increase in March from February but at a rate below what economists had expected. The PMI increased to 50.9 in March from 50.1 in February but was well below the forecasted reading of 52.0.
Economists and market watchers had been expecting a much stronger reading as February was largely written off as a fluke event due to the slowdown caused by the Lunar New Year holiday. During this period, factories shut down and the entire economy takes a break. However, the weaker than expected data in March confirms that there is at least slight weakness in the Chinese economy now.
Later, the HSBC China Manufacturing PMI also showed slight weakness, albeit less so than the official PMI. The differences in the surveys come from their respective methodologies: the official PMI focuses on the largest companies in China whereas the HSBC survey uses a larger sample size of smaller companies. Thus, they are not necessarily comparable and can be used in tandem, rather than against one another.
The HSBC China Manufacturing PMI fell to 51.6 in March from 51.7 in February on expectations of a flat reading at 51.7. The analysts at HSBC noted that operating conditions and production levels have now improved in China for five consecutive months and that total orders rose for the sixth consecutive month. "A number of respondents attributed growth to strengthened client demand," wrote the analysts, who also noted that new orders, a good leading indicator, increased, "albeit marginally."
Markets did not react to the news positively overnight. Chinese shares fell slightly overnight by 0.1 percent, as measured by the Shanghai Composite Index, however shares traded as low as 0.42 percent following the data release. Top gaining sectors included pharmaceutical companies and retail companies with Information Technology and Industrial companies lagging.
Spot gold climbed as high as 0.4 percent to $1,603.94 per ounce before erasing most of its gains. Spot gold traded $1,598.18 per ounce as of writing, a gain of $0.50 or 0.04 percent. Oil prices weakened on the news with WTI crude declining 0.79 percent to $96.62 per barrel.
U.S. equity futures traded slightly lower as of writing as S&P 500 futures fell a mere 0.30 after trading down as much as 3.00 to 1,559.40. Tech-heavy NASDAQ futures rose 3.00 points to 2,814.25 after declining as low as 2,807.25 following the weak Chinese news. Overall, markets seem to be brushing off the data and focusing more on other market events, mainly key central banks this week and the European debt crisis.
Looking forward, markets will eye the Reserve Bank of Australia's interest rate decision and accompanying statement tonight at 11:30 pm New York time. Although the RBA does not directly influence Chinese policy, the RBA board has a good eye on the Chinese economy because of its economic ties to Australia through raw materials exports. Thus, the RBA statement should provide some clarity on the situation in China and also confirm or refute the findings of the PMIs.
Posted-In: News Futures Commodities Events Global Econ #s Economics Pre-Market Outlook Best of Benzinga
View Comments and Join the Discussion!