New Video Game Consoles for 2013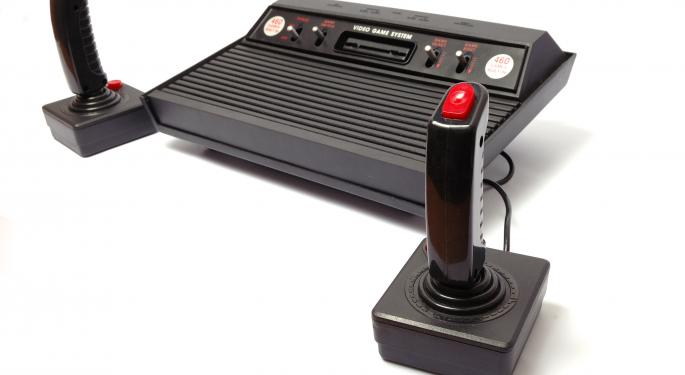 The gaming world is changing: tablets are being used more and more for gaming, consoles are developing more functions than just gaming, Nintendo (OTC: NTDOY) is trying to combine the home console and travel console, and more games are becoming available for download.
The next generation gaming consoles will introduce a new breed of games for the PlayStation and Xbox that will feature startlingly lifelike graphics, set in virtual worlds that operate in a much more believable matter than the current crop.
Sony (NYSE: SNE) and Microsoft (NASDAQ: MSFT) are going head-to-head in their console releases this year; both of their consoles are rumored to be released around the same time. They are also facing competition from new console makers Ouya and GameStick which will allow new game developers to enter the gaming world and also Steam Box for PC gamers.
PlayStation 4
The next PlayStation console, after a seven year wait, was unveiled on February 20 at an event held by Sony in New York. They have high hopes for a 2013 release and rumors are guessing at its availability in November. The base model will cost $429 and the premium will be $529.
The controller has been redesigned with a curvier shape, a touchpad and blue reflector strip that interacts with a PlayStation Eye camera to form a motion-sensing system. The console will be able to connect with smartphones, enabling users to chat with PS4 gamers and to control their PS4s remotely.
To cope with the change in the gaming business, Sony bought a company called Gaikai in 2012 which developed a technology allowing games to be hosted in the cloud and streamed via the internet, and that has been incorporated into the PS4.
Along with backwards compatibility, the new PlayStation also allows users to watch friends play virtually and will be able to record their own gameplay by pressing the new "share" button on the controller.
The PS4's PC-like configuration will include an 8-core 64-bit x86 "Jaguar" CPU built by AMD (NYSE: AMD), with a Radeon GPU comprised of 18 "compute units" capable of cranking out 1.84 TFLOPS to process graphics and more. It will hold a 6x Blu-ray drive and packs 8GB of unified GDDR5 RAM capable of 176GB/sec of bandwidth.
Xbox 720
Much of what is known about the new Xbox is speculation and rumors, they haven't released an official name for it yet. Microsoft has announced that they will unveil the system officially in April with a speculative release date of November, due to the previous two generations having been released that month. The console will be $400 and retail prices for games will increase by around $10.
The Xbox official code name, Xbox Durango, was leaked on Twitter by Crytek technical designer Sean Tracy, who has since deleted the tweet. There are other name predictions such as Xbox Loop and Xbox Infinity. Both of which fit with the URL Microsoft bought for Xbox8.com.
Home entertainment is improving and people are settling on what systems they rely on most to fulfill their wants. Microsoft is pushing toward making the Xbox the center of the home entertainment universe by packaging the next Kinect motion-control device with every console sold. Kinect will receive a huge upgrade with the next Xbox; it will have improvements to voice recognition, object detection and the field of view.
A report published by Kotaku describes a multitasking ability on the next Xbox that will allow users to effectively pause games, switch to a different program, interact with it, and then return to their game without the need to save or quit their session.
The new console is also rumored to have some level of DVR-like media consumption storage abilities, and feature some integration with Skype which will essentially allow users to take calls via their Xbox in the middle of gaming sessions or television marathons.
The console will have similar but slightly less powerful specs than the PS4, with 8 CPU cores running at a speed of 1.6 GHz, 8 GB of DDR3 RAM, and a 6x Blu-Ray drive. It may come with available multiple bundles, specifically a 250 GB and 500 GB HDD models, downloadable games being a high priority for the console.
Nintendo
Although Nintendo has no set plans for a new console or DS, having just released the Wii U last year, they are still set to have a big year in 2013. With their release of the Mario Galaxy series for the Wii and Super Mario 3D Land for the 3DS. They've also remade The Legend of Zelda: Wind Waker in HD for Wii U.
The general manager of Nintendo entertainment analysis and development, Shigeru Miyamoto, said in June that Nintendo will not be developing upgrades for the Nintendo 3DS. Instead, they are looking toward the future for a new generation of handheld gaming devices.
In February, Nintendo began restructuring by merging Nintendo's development divisions for home consoles and portables. By making the consoles more transferrable, they hope to be able to build the same games for both its next-generation home console and handheld device.
Ouya
The Ouya is an upcoming video game console which will run its own version of the Android operating system and plug straight into a TV. This $99 console will have entirely downloadable games that will be free to try. In its Kickstarter campaign, game industry veteran Julie Uhrman had the original goal of $950,000, and they ended up getting $8.5 million. The console is slated to be released to the public in June.
The goal of this console is to bring back the world of TV gaming as a social experience, rather than a solitary exercise. Uhrman also dreams of the technology being built right into your next television set.
Development of the console includes requiring developers to offer a version of their games for free. 7,000 game developers have signed up for Ouya accounts, from big publishers who create multi-million-selling titles like "Halo" down to the smaller independents. They have an open platform which means anyone can make games for them without authorization from the manufacturer.
The developers are also joining the goal of an all-in-one entertainment hub and has partnerships with Flickster and Vevo and is in talks with major players like Netflix (NASDAQ: NFLX), Amazon (NASDAQ: AMZN), Hulu and Google (NASDAQ: GOOG). Ouya hardware would be able to be upgraded as often as mobile devices, rather than the console refresh rate.
They've been open to the public during the development of the Ouya, adjusting the system from their suggestions. They added an Ethernet port when some backers outside of the U.S. said they didn't have access to Wi-Fi, and a USB port for those gamers who will want to store more games than the console can handle. They also changed the controllers when some backers on Reddit said that the colors are no good to the color blind players.
It runs on a Tegra 3 processor, 1GB of RAM and 8GB of flash storage. Its connectivity includes Bluetooth and Wi-Fi protocols. The maximum resolution for the big screen will be 1080p output.
GameStick
Ouya has some competition as an Android-based, affordably priced gaming console with GameStick. This device is due to arrive in April. The USB-sized console is set to be sold at $79.
PlayJam, a company that produces casual games for mobile devices and digital TVs, launched a Kickstarter campaign to fund GameStick. They called it "the most portable TV games console ever created."
The 2-inch gadget plugs into the HDMI slot of any TV. The stick fits inside of the controller to add extra portability. "For the first time ever, it puts big screen gaming directly in your pocket," PlayJam CEO Jasper Smith explained. Its operating environment will also be open to developers big and small.
It has identified 200 mobile titles that can be played on your TV using GameStick and the company is working with more than 250 developers to create more games for the gadget when it launches. Many games will be free and most others will cost just a few dollars, much like smartphone and tablet games.
The GameStick console will also act as a media center device. They're working with Pivos to bring support for the XBMC media center application to the GameStick. It will also support plugins which will let you stream media from sites such as Grooveshark, YouTube, and other online media sites.
The GameStick runs on Android Jelly Bean, uses an Amlogic 8726-MX processor, has 1GB of RAM and 8GB of flash storage. Much like the Ouya, it also has Bluetooth and Wi-Fi capabilities.
Steam Box
PC developer Xi3 and the makers of the Half-Life and Portal series Valve, are both building a gaming console of their own. The Steam Box will allow gamers to play their Steam games on a TV but it will be a PC. The first platform of the Steam Box is named the Piston by Xi3 and it carries a hefty price of nearly $1,000 and will launch this holiday season.
Xi3 Jason Sullivan said in a press release that they are trying to develop a console that combines both the personal computer and tradition console markets for video/computer gaming. The machine will have the "upgradeability of computer gaming rigs and the design and form factor of consoles."
Their video game controller patent includes features similar to that of the Xbox 360 controller. A different feature of it is the ability to move some of the buttons around to fit an individuals play style.
It's predicted that other PC manufacturers will follow suit, taking time to make their components more compact so as to fit them in an aesthetically pleasing, lounge-suiting chassis.
The Piston is a small, portable device that contains 128GB SSD and 8GB of RAM within with upgrade options to either 256 or 512 GB of flash storage, for an added fee. Despite its small size, it is also going to be upgrade-able, helping with its potential shelf life of ten years.
View Comments and Join the Discussion!
Posted-In: Android GameStick Hulu Jelly Bean Kickstarter MarioNews Rumors Best of Benzinga