Apple and Intel's New Technology Threatened by AMD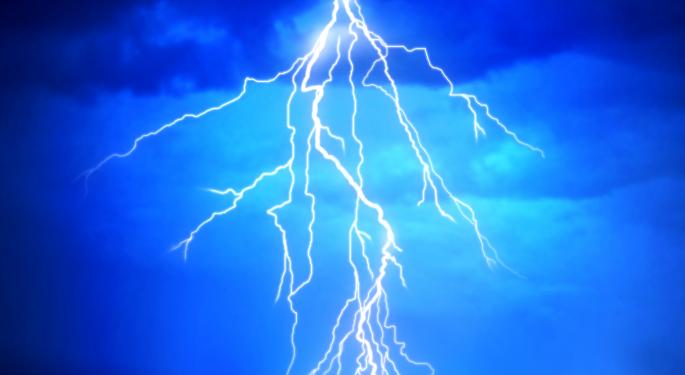 When Intel (NASDAQ: INTC) teamed up with Apple (NASDAQ: AAPL) to launch Thunderbolt, a new hardware interface, the company hoped to quickly replace Firewire and USB 2.0.
The latter was followed by USB 3.0, which allows data to be transferred at speeds of up to five gigabits per second -- more than 10 times faster than USB 2.0.
Thunderbolt can go even faster, achieving transfer speeds of up to 10 gigabits per second. Thunderbolt also allows users to daisy chain six devices.
In theory, this should have made Thunderbolt the dominant player in hardware interfacing. Thus far, that has not been the case.
Apple was the first to receive the new technology. The company started by bringing it to the MacBook Pro, followed by the iMac, Mac Mini and MacBook Air. Lenovo, Hewlett-Packard (NYSE: HPQ), Acer and Asus have also developed machines that use Thunderbolt.
Meanwhile, USB 3.0 is cropping up in notebooks and desktops from virtually every manufacturer, including Dell (NASDAQ: DELL), Sony (NYSE: SNE), Lenovo, Hewlett-Packard, Acer and Asus. Even Apple has started adding USB 3.0 to its machines.
Thunderbolt may be faster, but the cost and compatibility benefits of USB 3.0 are hard to ignore. Best Buy (NYSE: BBY) currently sells several 1TB, USB 3.0-supported hard drives for less than $100.
The average 1TB Thunderbolt hard drive retails for more than $200.
Things are about to get a lot more complicated for Intel. Advanced Micro Devices (NYSE: AMD), which is best known for developing high-end processors and dedicated graphics chipsets, is getting ready to release a low-cost Thunderbolt competitor in 2013. And it's called Lightning Bolt.
Bloggers have been arguing about which format will prevail since AMD announced Lightning Bolt last year. According to DigiTimes Research, things are not looking good for Intel. There may be as many as seven different alternatives to Thunderbolt.
Worse yet, the Taiwanese publication said that developers are trying to increase the USB 3.0 transfer speeds from 5Gbps to 10Gbps. If this can be achieved, it will eliminate one of Thunderbolt's key advantages.
Louis Bedigian is the Senior Tech Analyst and Features Writer of Benzinga. You can reach him at 248-636-1322 or louis@benzingapro.com. Follow him @LouisBedigianBZ
Posted-In: AMD Apple Digitimes Intel Lightning BoltNews Rumors Tech Best of Benzinga
View Comments and Join the Discussion!