Seriously? Another Broken Carnival Ship?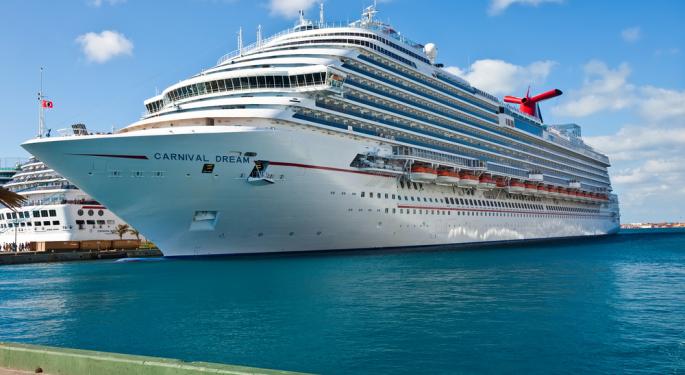 When it rains, it pours. Yet another Carnival (NYSE: CCL) cruise liner experienced mechanical problems with passengers on board. This time on the (ironically named) Carnival Dream.
According to the cruise line, after making a scheduled port call Wednesday, a backup generator stopped working during routine tests. Carnival officials said, "There were periodic interruptions to elevators and restroom services for a few hours last night. However, all hotel systems are functioning normally and have been functional since approximately 12:30am," according to the Associated Press.
Carnival was making plans to fly passengers home from St. Maarten where the ship is currently docked. They will receive a refund for the three days of the voyage and a voucher good for 50 percent off of their next "dream" vacation.
On top of that, the next cruise on the ship, scheduled for March 16, has already been cancelled. Those guests will receive a full refund, a 25 percent off coupon for their next cruise (although it will probably be on Royal Caribbean (NYSE: RCL)), and a refund of all nonrefundable travel expenses. And finally, the fare paid for their current cruise will be good for their next booking.
Carnival said, "We are very sorry for this disruption to our guests' vacation plans and extend our sincere apologies. We look forward to welcoming them back on another Carnival cruise."
This follows the recent incident where the Carnival Triumph was stranded at sea for several days earlier this year. Then there was the Costa Concordia, also owned by Carnival, which ran aground in Italy killing 32 people and in 2010, the Carnival Splendor was stranded at sea for several days after experiencing a fire.
But the recent story involving Royal Caribbean might make you sick too—literally. On March 10, Royal Caribbean's Vision of the Seas docked in Port Everglades, Florida after about 5 percent of the 1,991 passengers and 772 crew members became sick with the norovirus—an outbreak that has struck numerous cruise ships since its discovery in Australia one year ago, according to the Globalpost.
The ship was scheduled for sanitizing before embarking on its next cruise.
Bottom line—let's be glad that the Carnival mechanics don't work for one of the airlines and if you're cruising on a Royal Caribbean ship, it might not be seasickness you're feeling.
In midday trading, Carnival is down about 1.5 percent and Royal Caribbean is up 1.5 percent.
Posted-In: Carnival Cruise Lines royal caribbeanNews Events Trading Ideas Best of Benzinga
View Comments and Join the Discussion!