What Would You Do for $15 an Hour?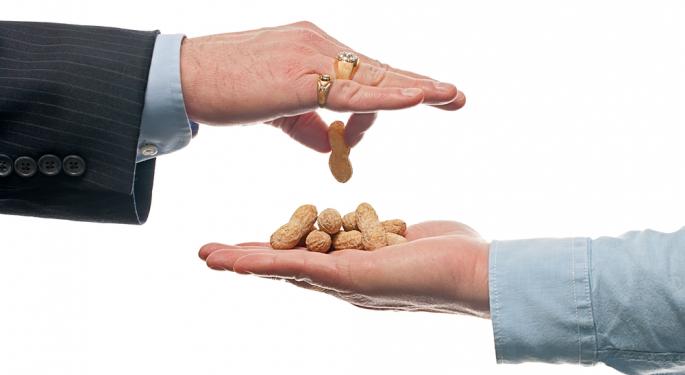 More than 30 years ago, Capital One ShareBuilder President Dan Greenshields had not yet started his career in the financial services industry. He was young, hardworking and interested in buying stocks. He also needed a job to pay for his investments.
"At the airlines, at Minneapolis International Airport, in the hangars, they had these huge airline kitchens to prepare the meals," Greenshields recalled. "When I was 15, I was small enough to crawl in [the overhead space] and clean them. They had to be cleaned once a year."
Greenshields told Benzinga that he was paid $15 an hour for his effort. According to the Bureau of Labor Statistics' CPI Inflation Calculator, $15 had the same buying power in 1980 as $41.92 has in 2013. Nonetheless, Greenshields referred to this as his "worst" job.
"They gave me an extension cord and a light and I literally crawled through there with a bucket of hot water and cleaned the grease off there," he said. "Northwest Airlines, now it's Delta. It had huge industrial kitchens right behind the maintenance hangar. It had probably 200 yards of soot in the overhead because of all the meals they cooked."
During the rest of the year, Greenshields spent his time investing. "That's what got me started," he said. "First stock I bought… I think it might have been De Beers Mining."
Before investing and cleaning airport hangars, Greenshields was a dishwasher at a Chinese restaurant. "It's actually still there on the 494 strip in Minneapolis," he said. "It's famous because Billy Martin, the baseball manager, used to go in there and start fights in the bar. I met him there."
One of those brawls led to an infamous skirmish between Martin and a marshmallow salesman.
"It happened in the '70s," said Greenshields. "It was a well-publicized fight between Billy Martin and a marshmallow salesman. The guy was literally throwing marshmallows at the bar."
Follow me @LouisBedigianBZ
Posted-In: Capital One ShareBuilder Dan Greenshields deltaNews Management Success Stories Tech General Best of Benzinga
View Comments and Join the Discussion!