Barnes & Noble Surges on Potential Retail Arm Buyout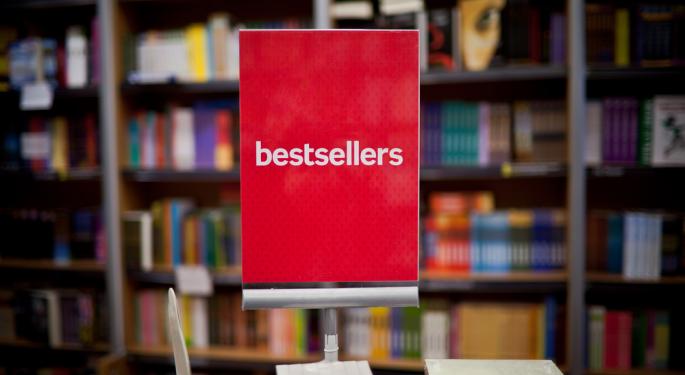 Barnes & Noble (NYSE: BKS) shares rallied Monday on word of a potential buyout of its retail business. Founder, current Chairman of the Board and top shareholder Leonard Riggio intends to propose a purchase of all of the New York City-based bookseller's retail assets.
According to a filing with the SEC on Monday, Riggio would like to purchase, among other things, Barnes & Noble Booksellers, Inc. and barnesandnoble.com. NOOK Media LLC would be excluded from the deal.
Riggio would provide equity financing for the deal and arrange for any debt financing that may be necessary.
No Timetable
Barnes & Noble has formed a Strategic Committee of three independent directors to evaluate the proposal and oversee any negotiations. The company has also hired Evercore Partners to serve as its financial advisor. Evercore is the same firm that, along with JP Morgan, advised Dell (NASDAQ: DELL) with its buyout situation.
However, there is no timetable set for the Strategic Committee's review.
All for the NOOK?
Investors may recall Barnes & Noble's January, 2012 announcement that it was exploring the strategic separation of its digital business. The company claimed it was doing so in order to maximize shareholder value.
Riggio's purchase, should it occur, will increase the likelihood of a separate public company centered around Barnes & Noble's present electronic business. As noted in his SEC filing, Riggio intends to propose the deal in order to "facilitate the Company's evaluation of its previously announced review of strategic options for the separation of its investment in NOOK Media LLC."
Riggio to Follow in Michael Dell's Footsteps?
The potential deal mirrors the Dell (NASDAQ: DELL) buyout in which, barring a last-minute snag, Michael Dell will reclaim ownership of the ailing company he founded.
Dell, which was once at the top of its industry, now sits in third place as it faces increasing competition from the mobile devices of its competitors. Similarly, Barnes & Noble, which was once at the top of the book retail business, now sits far behind the likes of Amazon (NASDAQ: AMZN) and Apple (NASDAQ: AAPL) due to a surge in e-book competition from the said companies.
If and when Riggio takes ownership of the said portion of Barnes & Noble, he wouldn't have to deal with market pressure as the company currently does in its public state. This would place him on similar turf as Michael Dell who, some speculate, will have an easier time turning his company's fortunes around out of the public spotlight.
Market Reaction
After hovering around $13 to $13.50 since mid-February, Barnes & Noble has climbed close to $15 as of this writing. The stock is at its highest point since January 3.
Barnes & Noble is up around 9.5 percent on Monday.
Posted-In: Leonard RiggioNews Asset Sales Management M&A Intraday Update Movers Best of Benzinga
View Comments and Join the Discussion!