Struggling Eurozone Countries Expected to Miss Deficit Targets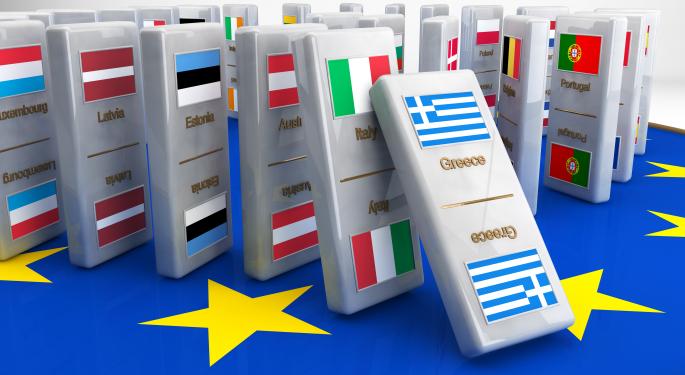 The euro was poised to finish off the week trading steadily above $1.32 on Friday as investors geared up for next week's Italian elections. The common currency traded at 1.3234 at 9:20 GMT on Friday morning.
After poor economic data rattled markets and sent the euro downward, some became concerned about the eurozone's ability to recover in 2013. The bloc's purchasing managers' index showed continuing weakness throughout the region and reignited speculation that the European Central Bank could cut interest rates at their next policy meeting in March.
The PMI data added to pressure from Italian elections set for next week. After former stand-up comedian Beppe Grillo and former Prime Minister Silvio Berlusconi moved forward in the polls two weeks ago, many became nervous that the Italian election could impede the eurozone's progress.
Grillo has promised to do all that he can to bring down the government; his anti-euro stance is popular among angry Italians who have been suffering through a three year crisis. Berlusconi, whose past run as Prime Minister ended disastrously, has promised everything from tax refunds to reprieve for tax evaders in order to secure votes.
Investors will also have an eye on the European Commission's 2013 and 2014 economic forecast for the eurozone, due out on Friday. The report will give investors an idea of the region's progress in reducing borrowing and could have a large impact on the euro's value.
According to Reuters, many of the eurozone's struggling economies are likely to miss deficit targets set by the EU. Countries like Greece, Ireland and Portugal must stick to their agreed terms set by their bailout agreements. Failure to adhere to the terms could mean their upcoming payments will be frozen, similarly to the situation in Greece in 2012.
France and Spain are also worrisome, as most are expecting they will miss their deficit targets set by the Stability and Growth Pact. Under the pact, countries whose deficit reaches above 3 percent of gross domestic product could face fines. However, countries which miss the mark due to external factors rather than bad policies are typically granted more time rather than being fined.
Posted-In: News Commodities Forex Global Markets Best of Benzinga
View Comments and Join the Discussion!