Is it Time to Lighten Your Load of Fast Food Stocks?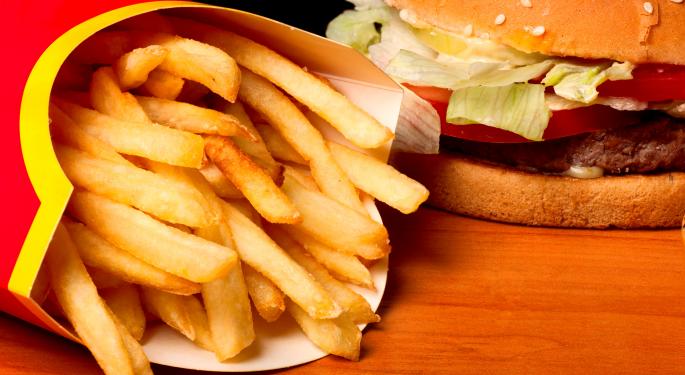 Bloomberg reported a decline in U.S. fast-food consumption.
According to the report, the CDC found that U.S. adults consumed an average of 11.3 percent of their calories from fast food in the period from 2007 through 2010, down from 12.8 percent in the 2003 to 2006 period.
There are still over 90 million obese Americans, including over 78 million adults and 12.5 million children, noted Bloomberg. According to the CDC, 35.7 percent of adults were obese in 2009-2010.
Expectantly, obese people are the top consumers in the fast food arena. Although a modest decline in fast food consumption has occurred, it seems unlikely a rapid decline will occur in the near future.
Impact on Stocks
With Americans eating a bit healthier, investors may have expected to see fast food stocks decline. Yet, just the opposite occurred.
Shares of McDonald's (NYSE: MCD) nearly doubled from the beginning of 2007 through 2010, despite the financial crisis. And, the stock has climbed further since then, as it is now up 158 percent as compared to January 3, 2007 - the first day of trading that year.
Since Burger King (NYSE: BKW) went public (again) in June of 2012, its stock has climbed 17 percent.
Unnamed pizza restaurants were included in the CDC's report as well, according to Bloomberg. It is safe to assume those included Domino's Pizza and Pizza Hut.
Domino's Pizza (NYSE: DPZ) dropped 2.5 percent from 2007 through 2010. However, counting the time since then, the Ann Arbor, Michigan pizza chain stock has tripled since the beginning of 2007.
Yum! Brands (NYSE: YUM), which owns Pizza Hut along with other chains such as KFC and Taco Bell, saw an 81 percent increase from 2007 through 2010. Since 2010, the Louisville, Kentucky firm stock has climbed 150 percent.
Healthy Eating or Healthy Spending?
The decline in fast food consumption coincides with the financial crisis. The Dow Jones Industrial Average dropped sharply in late 2008 and early 2009 before embarking on a rocky recovery to its present state. It has yet to return to 2007 levels.
On that note, since the start of the crisis, restaurant patronage has declined, likely due to changes in consumer spending habits. Between 2008 and 2010, restaurant visits declined by over three percent and have leveled off since then.
In other words, if and when the economy becomes robust again, Americans may begin to dine out more - including at fast food restaurants.
The Bottom Line
The Bloomberg report should raise an eye brow for investors with fast food holdings, but it may be a function of a sluggish economy as opposed to a permanent change in consumer preferences.
Fast food stocks have performed well, even during the financial crisis. Not to mention, as the pace of life increases for many, the natural inclination will be to rely on speedy meals - and that's the name of the game in the fast food business.
Posted-In: News Trading Ideas Best of Benzinga
View Comments and Join the Discussion!