Apple Thinks LG Display is Investing $650 Million to Build an "Awful" Product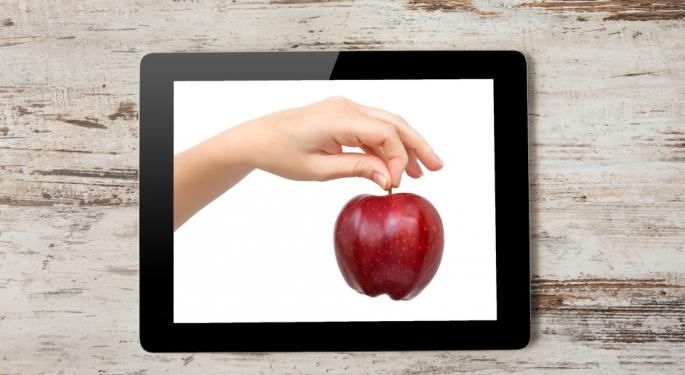 Apple (NASDAQ: AAPL) chief executive Tim Cook did not hold back in sharing his thoughts on OLED displays. During a Goldman Sachs (NYSE: GS) conference last week, Cook said that the technology was "awful."
"Some people use OLED displays, but the color saturation is awful," he said. "If you buy things online, you should think twice before you depend on the color of the OLED display. The Retina display is twice as bright as an OLED display."
Cook may have knocked OLED (which stands for "organic light-emitting diode") technology simply to praise his company's own Retina Displays. "We want the best display," he added. "I think we've got it."
Even so, Cook's words could go a long way in directing consumer and corporate purchases. Apple could have easily made its own OLED display to compete, but it went in another direction. The company's lack of faith in that technology (which has yet to be proven as the future leader of displays) may be a sign of the troubles that are ahead.
Nonetheless, LG Display is reportedly investing $657 million to expand the production of OLED displays. According to DigiTimes, the investment is for a South Korean-based plant. The expansion is set to begin this month and will conclude in June 2014.
This announcement comes at the same time as a Bloomberg report that Samsung, the world's largest TV manufacturer, plans to ramp up production for OLEDs.
Sony (NYSE: SNE) was the first company to release an OLED display in North America. In 2008 the Japanese manufacturer announced that it would release the $2,500 XEL-1, an 11-inch panel that featured a contrast ratio of 1,000,000:1. It was also one of the thinnest TVs in production, featuring a depth of just three millimeters.
As a luxury item with very few uses (most consumers don't want 11-inch TVs), the XEL-1 was not a big seller for the company. It was more of a show piece to prove that the company could bring this unique technology to market far ahead of its competitors. At the time, Apple had not even developed its first Retina Display.
Today OLED displays are much more common, particularly in smartphones. They have yet to achieve true mainstream success as the leading TV format, however. This is partially due to the fact that OLED televisions carry a much higher price tag than the average set. In fact, LG Display reportedly plans to sell a 55-inch OLED panel for $10,000.
Despite Cook's disdain for OLEDs, his company fully supports the work of its manufacturers -- particularly LG Display, which is rumored to have supplied displays for the latest iPhone.
Follow me @LouisBedigianBZ
Posted-In: Apple LG Display Tim CookNews Rumors Tech Best of Benzinga
View Comments and Join the Discussion!