Bloomberg: Kohl's a Potential Takeover Target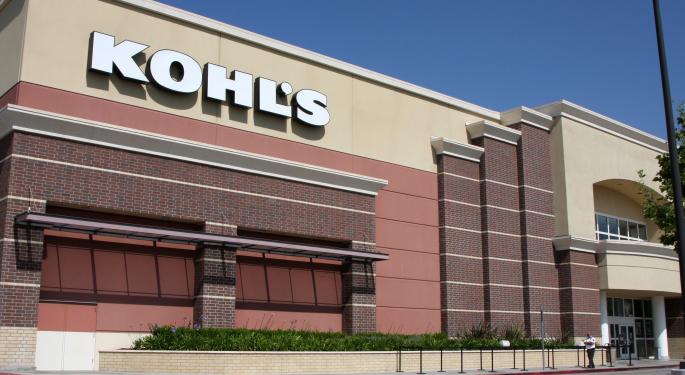 Wisconsin-based department store chain Kohl's (NYSE: KSS) is on deck as a potential takeover target. Per Bloomberg, Edward Jones believes Kohl's could be an attractive buyout candidate for a private equity firm.
According to data compiled by Bloomberg, the company trades at 0.58 times sales and at a cheaper multiple to profit than any other department store chain in North America. The article goes on to note that exclusive brands from fashion designer Vera Wang and pop-star Jennifer Lopez have built customer loyalty and that Kohl's has a free cash flow yield that's higher than those of its peers.
Bloomberg notes that Kohl's had over $900 million in free cash flow over the past 12 months.
Edward Jones isn't the only speculator in this equation. According to Bloomberg, Morningstar has also listed Kohl's as a top takeover target, citing the company's real estate holdings. Kohl's owns over 400 of its stores, as notes Bloomberg.
However, not everyone agrees the company is headed for a takeover. According to Bloomberg, Stifel Nicolaus & Co. analyst Richard Jaffe believes the move would be a stretch, given the department store chain's $4.6 billion in debt and other liabilities.
If such a deal occurs, it would be the largest retail buyout since 2005, according to Bloomberg.
Buyout Talk Has Little Effect on Market
When a media giant like Bloomberg reports on a potential takeover of a major corporation, people listen. According to Bloomberg, their website alone attracts 26 million unique visitors per month, not to mention their worldwide presence on television and through other mediums.
Investors may remember Bloomberg's story on Jamba Juice (NASDAQ: JMBA) and Krispy Kreme (NYSE: KKD) as potential takeover targets in early January. Krispy Kreme appeared to take a hit from that story, as the stock closed below $11 for the day - the only time is has done so between January 3 and the end of the month.
Unlike Krispy Kreme, though, the market appears to have given very little weight to the Kohl's buyout rumor thus far. The stock has hovered in the low-to-mid $40s for the past two months and is at around $46 as of this writing. It is up around a modest 0.5 percent.
Is Kohl's a Good Buy?
Analysts are largely Neutral on Kohl's. In fact, JP Morgan offers just that rating, citing that the company has entered a period of moderate earnings growth while questioning their aging store base and increasing competition.
Thus, investors may wish to hold this stock if they have it or steer clear until analysts gravitate toward a more definitive stance.
Posted-In: Edward Jones morningstar Stifel NicolausNews Rumors M&A Best of Benzinga
View Comments and Join the Discussion!