Boeing to Keep Using Lithium Ion Batteries in 787s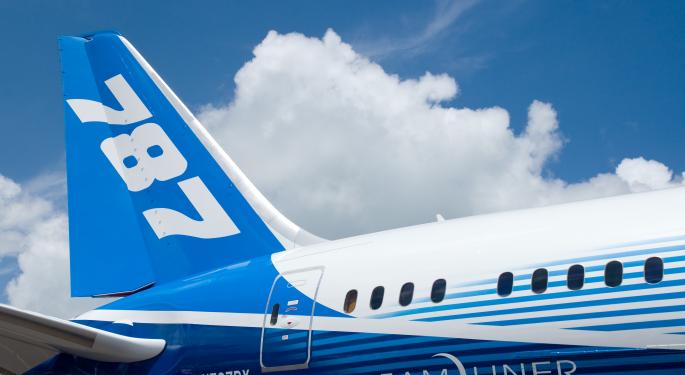 Boeing (NYSE: BA) will keep using lithium ion batteries in its 787s, at least for now, reports Edmunds.
Boeing informed Edmunds that the selection of lithium ion batteries was made ""after a careful review of available alternatives because they best met the performance and design objectives of the 787. Based on everything we know at this point, we have not changed our evaluation."
The decision is certain to spark controversy, given the 787's woeful performance thus far.
Dream or Nightmare?
The 787, dubbed the "Dreamliner" has been nothing short of a nightmare for the Chicago Aerospace and Defense firm.
On January 7, a fire broke out on an empty 787 in Boston. Shortly after passengers exited the Japan Airlines plane, its auxiliary power system exploded, as notes Reuters.
This was the second reported case of a ground-based disaster for the troubled 787s, as an engine exploded on a grounded plane in South Carolina in July of 2012.
According to Reuters, Japan's two largest airlines grounded their 787s after a warning light for a battery error triggered an emergency landing on an All Nippon flight on January 16.
Additionally, according to Reuters, other incidents include an emergency landing on a United flight from Houston to Newark due to electrical problems. Both United and Qatar experienced similar problems on separate planes in December, as well.
Overall, Boeing has made headlines for all the wrong reasons with the Dreamliner, as one technical failure after another has been reported since the latest Boeing model was introduced in 2011.
A Musky Smell?
According to Flightglobal, SpaceX founder and Tesla (NASDAQ: TSLA) owner Elon Musk has thrown himself into the mix.
In an email statement to Flighglobal, Musk noted ""They [Boeing] believe they have this under control, although I think there is a fundamental safety issue with the architecture of a pack with large cells. It is much harder to maintain an even temperature in a large cell, as the distance from the center of the cell to the edge is much greater, which increases the risk of thermal runaway."
In an apparent attempt to become directly involved in the situation, Musk recently tweeted "Maybe already under control, but Tesla & SpaceX are happy to help with the 787 lithium ion batteries" and "Desire to help Boeing is real & am corresponding w 787 chief engineer."
The level of involvement he seeks is not clear, but he could certainly profit from it, given that Tesla makes similar (but allegedly safer) batteries as Boeing.
According to Edmunds, Boeing has confirmed using outside experts to investigate the latest incidents. Yet, it appears Musk is not one of them. According to Flightglobal, Boeing has declined offers of assistance from SpaceX and Tesla.
Market Reaction
News of Boeing's decision to stay the course hasn't impacted the market much.
Since late November, Boeing has traded in the mid-$70s on most days. It continues to do so at around $74 as of this writing.
Boeing is down less than one percent on Thursday.
Posted-In: Elon Musk SpaceXNews Best of Benzinga
View Comments and Join the Discussion!