Gun Sales Skyrocket on Fears of Regulation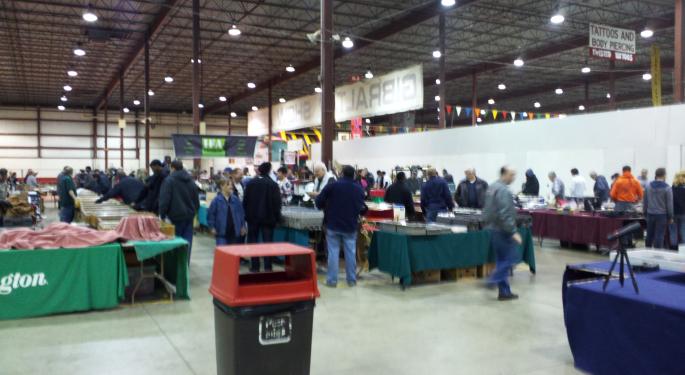 "That table emptied out in an hour and a half Friday," said a dealer to a customer at the Gibraltar Trade Center in Taylor, Michigan last Friday. The table in question was one that was once packed with AR-15 rifles.
Among a large crowd of buyers, the few sellers on Sunday that had any high capacity semi automatic rifles remaining were asking a large premium for them, two or three times the regular asking price.
While the dealers were all fairly picked over, buyers still buzzed around what remained, worried that it might be their last chance to get their hands on firearms, like the wildly popular AR-15.
Worries might stem from speculation surrounding future measures to limit gun ownership.
On Tuesday, President Obama's pseudo-gun tsar, Vice President Joe Biden, will announce new proposed gun control measures.
Fears that these regulations may severely limit the right to own certain firearms has many gun owners and supporters like the National Rifle Association up in arms (pun intended), but that isn't the only effect they've had.
Following the tragedy in Newtown Connecticut, firearm stocks Sturm Ruger (NYSE: RGR) and Smith & Wesson (NASDAQ: SWHC) both fell sharply, falling to three month lows off of near 52-week highs. What surprised some though was that following the few days of decline, the stocks started to rally, and rally hard.
What caused the rise? News that firearm demand hadn't just increased, but was going through the roof.
In a survey of two-dozen Michigan firearm sellers, 70 percent reported a sharp increase in sales over the past month, while 41 percent stated they were having significant trouble re-stocking their shops to meet demand.
While some would think this shortage would only apply to the assault rifles that receive so much heat from the media, many owners stated that no matter the make or model of firearm, it was flying off the shelves.
But it wasn't just firearms; ammunition is also in high demand, with .223 and .556 rounds almost impossible to find in the state, and being offered at highly inflated prices.
The massive demand and overdraw of firearms from warehouses is leading traders to believe the stocks are loaded for a gain. Since the tragedy in December, Smith & Wesson has gained just over 4 percent while Sturm Ruger has posted a staggering 14.03 percent gain.
Both companies have earnings in roughly a month, and strong earnings might propel the stocks higher. However, any fears about future gun control measures limiting demand could weigh on stocks. This factor might be the reason as to why both are heavily shorted; short interest in Ruger is nearly 50 percent.
Smith & Wesson traded down 1.20 percent Monday while Sturm Ruger gained just under 1.0 percent on the session.
Posted-In: News Movers Best of Benzinga
View Comments and Join the Discussion!