Ford Doubles Dividend Ahead of Detroit Auto Show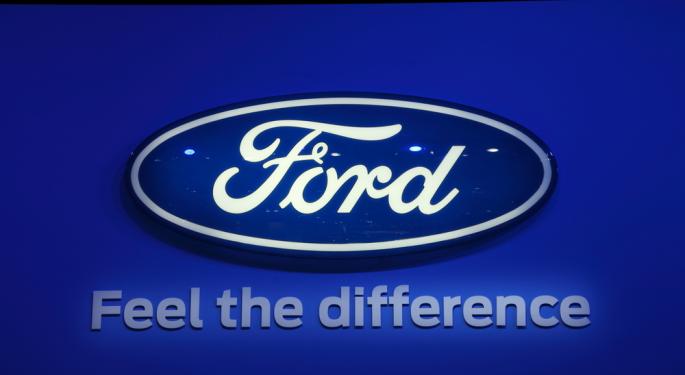 Ford (NYSE: F) announced a first-quarter dividend of $0.10 per share on Thursday. The move doubles the $0.05 quarterly dividend paid throughout 2012, leaving its investors with a bit more wealth to count on as 2013 gets underway.
As noted on January 3, the company's December sales rose 1.9 percent in December.
Also, the company recently announced its sales in China finished up 43 percent in December. Annual sales were up 21 percent, as noted in the report. Playing a strong factor was the success of the Changan Ford Automobile (CAF) passenger cars, which rose 60 percent in December (31 percent for the year) and accounted for two thirds of the company's overall sales in China.
Additionally, the company recently announced its success as the UK's number one car brand for 36 consecutive years, accounting for nearly 14 percent of auto sales in the European nation. The company also noted a 21.6 percent market share for commercial vehicles in Europe's third largest economy.
The rash of good news comes as Ford attempts to steal the show from GM (NYSE: GM) at the upcoming Detroit Auto expo.
GM generated plenty of buzz with their announcement of new Chevy Silverado and GMC Sierra pickup trucks in December. However, Ford may unveil a new, lighter F-150 at the upcoming event, as noted by The Street. Of important note is that the F-150 has been the most popular vehicle in America for 31 years, meaning this could very well be the hottest topic at the show.
Ford also announced its entry into the tech world with an app developer program.
According to the company, it will launch the Ford Developer Program, which is aimed at helping developers create voice-activated experiences in vehicles.
Hau Thai-Tang, vice president of Engineering, Ford Global Product Development states, "When we first introduced SYNC in 2007, there was a need for an appropriate way to connect and control cellphones and digital music players in the car due to the massive consumer adoption trend. Offering voice control so drivers can keep their hands on the wheel and eyes on the road has proven to be popular with our customers."
In other words, the company realizes modern drivers often risk their lives to play with gadgets and they hope to profit from a safer alternative.
Given its streak of success, the 110-year-old automaker's stock has performed rather well this year and is up over 6 percent since trading opened on January 2.
The news of the company's dividend appears to have generated further gains, as the stock is up over 2 percent on Thursday. If all goes well at the Detroit Auto Show, look for this trend to continue in the coming weeks.
Posted-In: News Dividends Intraday Update Movers Trading Ideas Best of Benzinga
View Comments and Join the Discussion!