Bank of America to Pay $10 Billion in Mortgage Settlement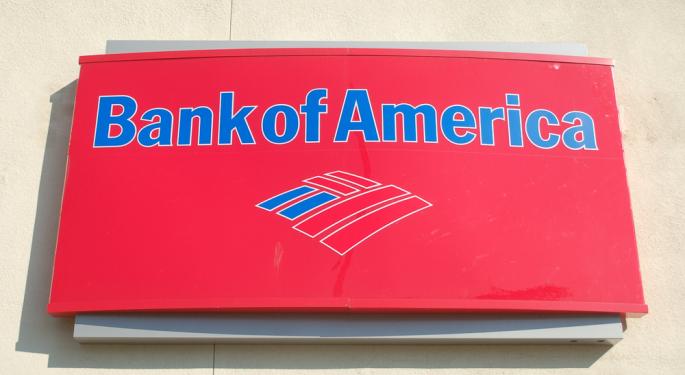 Bank of America (NYSE: BAC) said on Monday that it had come to an agreement with Fannie Mae to settle claims over faulty mortgages sold by the bank's Countrywide Financial division during the housing boom.
Bank of America will pay the government-sponsored mortgage giant a whopping $10 billion in order to settle the claims. The settlement will include the re-purchase of $6.75 billion in mortgage loans which were previously sold to Fannie Mae along with an additional $3.6 billion in cash.
The residential mortgages were purchased by Fannie Mae, which was taken over by the U.S. government in 2008 as it faced certain bankruptcy due to the sub-prime collapse, between 2000 and 2008. Both Fannie Mae and its sister company Freddie Mac have been litigating with lenders such as Bank of America for years in order to recoup losses brought on by toxic mortgages.
Bank of America's acquisition of Countrywide in 2008 has been a disaster for the Charlotte, North Carolina-based bank. The deal, which was engineered by former BofA CEO Ken Lewis, subsequently put the bank's solvency in jeopardy. It could not have come at a worse time for Bank of America as the entire sub-prime market imploded shortly after the acquisition and Countrywide turned out to be a seemingly bottomless money pit due to the mortgage lender's massive exposure to toxic loans.
Fannie Mae and Freddie Mac have accused banks of misrepresenting the quality of the loans they were selling, with Bank of America being the largest culprit. Bank of America's stock price, which collapsed in 2008 along with the entire financial sector, plunged anew in 2010 and 2011 as legacy mortgage issues triggered another round of fear for investors.
The stock closed 2011 around the $5.50 level after trading above $50 in 2007. The massive sell-off in BAC in 2011, however, set the shares up for a big surge in 2012 as some of the concern surrounding its mortgage exposure subsided. That allowed the stock to more than double in 2012, making it the best performing Dow stock on the year by a wide margin. Despite the huge rally in BAC, the stock still trades at a valuation which implies significant uncertainty with a price/book ratio of just 0.59.
On Monday, the shares were down roughly 0.70 percent in the wake of the settlement with Fannie Mae. The bank said that the agreement will reduce its pretax income for the fourth-quarter of 2012 by roughly $2.7 billion. Nevertheless, Bank of America said on Monday that it anticipates "modestly positive" fourth-quarter earnings. While the hit to pretax income in the period won't please investors, the real focus of Wall Street is likely to be on how this settlement moves the bank forward in terms of putting its legacy mortgage issues to bed once and for all.
Chief Executive Brian Moynihan, who had been on the hot seat over BAC's stock price in 2011, acknowledged this in a statement. "As we enter 2013, we sharpen our focus on serving our three customer groups and helping to move the economy forward," Moynihan said. "Together, these agreements are a significant step in resolving our remaining legacy mortgage issues, further streamlining and simplifying the company and reducing expenses over time."
Posted-In: Brian MoynihanNews Legal Management Events Global Intraday Update Movers Best of Benzinga
View Comments and Join the Discussion!