Stocks Fall After Christmas; Crude Jumps as Iran Begins Naval Exercises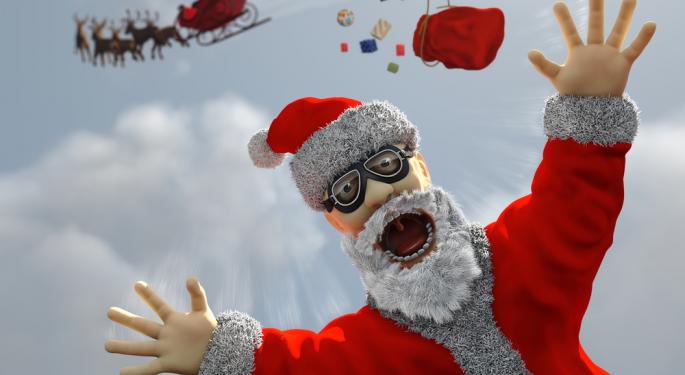 On the day after Christmas, the U.S. stock market is headed lower on continued concerns over the looming fiscal cliff and the very real possibility there will not be an agreement. At last check, the Dow Jones Industrial Average had lost around 35 points and was trading at 13,104. The S&P 500 was down around 0.48 percent and the Nasdaq had lost 0.62 percent, including a roughly one percent decline in shares of Apple (NASDAQ: AAPL).
Although stocks have been under pressure, crude oil has been surging on the session after Iranian Revolutionary Guard naval units began a four-day exercise in the Persian Gulf on Christmas day. At last check, NYMEX crude futures, the U.S. benchmark, were up 2.40 percent to $90.75. Brent crude contracts, which are the benchmark used for most European oil, had added 1.82 percent and were trading at $110.81. In ETF trading, the United States Oil Fund (NYSE: USO) had climbed more than 2.50 percent and was trading at $33.07.
According to reports, in addition to the naval maneuvers that are currently taking place, another exercise is scheduled for December 28 which will take place in the Strait of Hormuz. Previously, Iran has threatened to close the strategically critical channel at the entrance to the Persian Gulf if it is attacked. A third of the world's traded oil passes through the Straight and any interference with tankers could cause prices to spike sharply.
The current Revolutionary Guard exercises are taking place in Iranian waters at South Pars, which is a joint gas field between Iran and Qatar, according to the Fars News Agency. The additional war games will, known as "Velayat 91," will cover an area including the Strait of Hormuz, the Sea of Oman and parts of the Indian Ocean, according to reports from the ISNA news agency. Navy chief Admiral Habibollah Sayari said that Iran will test warships, submarines, and missile defense systems during the exercises.
"We will definitely respect the maritime border of our neighbors, and conduct the maneuvers based on international law," Sayari said. "Iran aims to demonstrate its defensive naval capabilities by conducting this exercise, and send a message of peace and friendship to regional countries."
The naval maneuvers and testing by the Revolutionary Guard could be construed by the markets as an escalation of tension in the region. The Strait of Hormuz is a major bargaining chip for Iran, which rightly fears that Israel could launch strikes against its nuclear facilities. The United States, however, has made it clear that any interference in the Strait of Hormuz would likely trigger U.S. military action in order to maintain the flow of oil to world markets.
Posted-In: Fars News AgencyNews Futures Commodities Global Intraday Update Markets Movers Best of Benzinga
View Comments and Join the Discussion!