Apple to Release Thinner, Lighter iPad?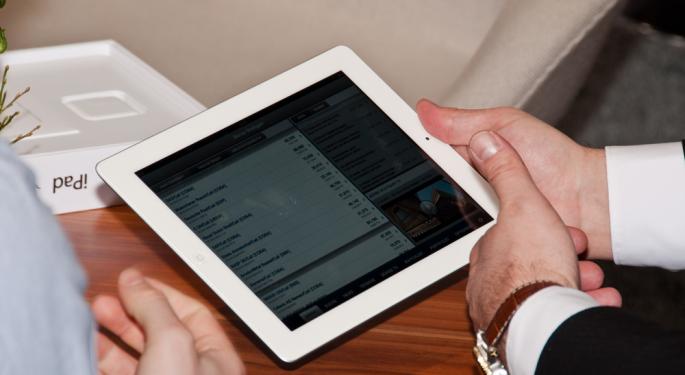 Readers who received a shiny new iPad for Christmas might be disappointed to learn that the device could be upstaged in just a few months.
According to various sources, Apple (NASDAQ: AAPL) will release the follow up to its widely successful iPad in March.
IT ProPortal dubs the device the "iPad 5," although this is likely not a name Apple would settle on, given its recent decision to label the third and fourth version of the iPad simply "iPad."
According to the reports, the fifth iteration of the iPad will be up to 4 mm shorter, 17 mm narrower and 2 mm thinner than the fourth iPad. As a result, it will also be lighter.
Shares of Apple dropped on Wednesday, falling over one percent to trade near $515. The stock is still notably off its September high above $700 per share.
An iPad refresh could prove to be bullish for the stock. With each successive iteration of the device, Apple has been able to sell more. Recently, the company sold three million iPads within three days of the release of the iPad 4, (although that figure also included sales of the iPad Mini) double the amount sold following the release of the third iPad. In other words, demand for iPads has moved upward rapidly and will likely continue when the iPad 5 is released.
Ultimately, however, demand concerns regarding the iPhone 5 may trump hope for another iPad. Several analysts have speculated that sales would fall short, as suppliers indicated that orders have been light.
Other concerns include declining interest in iPod devices, increased competition from Samsung's Galaxy smartphones and declining market share in the tablet space.
Despite these concerns and the recent selloff, shares remain higher on the year. Year-to-date, shares of Apple are up over 25 percent.
On a pure numbers basis, Apple's recent net income was $41.73 billion -- nearly quadruple that of Google (NASDAQ: GOOG).
Apple's stock may see a bounce following the release of the next iPad. However, whether the company can continue to perform in the long run will depend on its ability to fight off increasing competition for its products from the likes of Google and Samsung.
Posted-In: News Rumors Intraday Update Movers Tech Best of Benzinga
View Comments and Join the Discussion!