Whole Foods' Expansion Should be Closely Monitored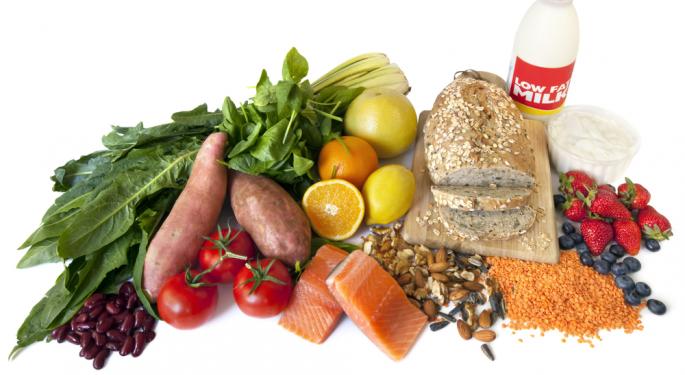 The company does not make tablets, operate a search engine or sell books and electronics online, but Whole Foods Market (NASDAQ: WFM) is, by any metric, a "story" stock. Since its debut as a public company in 1992, the stock has surged over 24,150 percent. Apple (NASDAQ: AAPL) was public at that time and its returns since are barely more than half of Whole Foods.
Amazon (NASDAQ: AMZN) came around a few years later and it took the e-commerce giant a few years to really start outpacing Whole Foods. Over the past five years, Whole Foods shares are up 126.5 percent while Google (NASDAQ: GOOG) has not even gained one percent.
This year alone, shares of Whole Foods are up more than 32 percent. Said another way, that stock has been better than twice as good as Google's in 2012. And with that type of performance comes a premium valuation. Whole Foods trades for more than 36 times trailing earnings and 26.6 times next year's profits, according to Finviz data. The same numbers for Apple and Google are nowhere in the Whole Foods ballpark. That type of valuation for almost any company means that firm can ill afford missteps of any kind. To this point in its operating history, it is fair to say Whole Foods is not known for missteps. The stock's performance indicates as much. However, investors need to be aware of something. Expansion Plans Primarily, the "something" investors need to note and the issue Whole Foods needs to be most cautious with, is the company's expansion efforts. As of August, Whole Foods had just under 320 stores, but the company believes it can take that number to 1,000 in the coming years.
That type of expansion effort is not only ambitious, it is risky. A retailer more than tripling its number of stores risks over-saturation in some markets. Self-inflicted cannibalization is a real threat. Just ask McDonald's (NYSE: MCD) and Starbuck's (NASDAQ: SBUX), both of which have had to deal with the issue of too many stores in condensed areas at various points in their respective histories.
In some markets, Whole Foods is arguably already traveling down the over-saturation path. Take Orange County, California. Undoubtedly, this is a market where Whole Foods has had and will continue to enjoy much success. The area is affluent and consumers there love to one up their rivals, er, neighbors. Orange County really is one of those places where when John and Jane buy a Mercedes and put the kids in private school, Bob and Bonnie across the street buy a BMW and put the kids in a pricier school.
That is a way of saying Orange County is a perfect place for Whole Foods to thrive. So maybe it is okay that the company has five stores within 20 miles of each other there. Using another ritzy California address (that being the famous 90210 area code for Beverly Hills) it is clearthat shoppers that live in that part of Los Angeles have no shortage of Whole Foods stores within easy driving distance
In San Francisco, there are multiple Whole Foods stores within less than 10 miles of one another. This is not a California phenomenon, either. Whole Foods can be found in seven Dallas suburbs. There are seven in Manhattan, where leases on retail space make those in Los Angeles and San Francisco look cheap. Houston and its suburbs are home to another seven Whole Foods. Phoenix has five and Tuscon, Arizona, with a population of less than 530,000 will soon be home to three Whole Foods stores.
Perhaps that does not qualify as over-saturation or over-expansion quite yet, but investors also need to note another issue.
Where To Go Next Clearly, the Whole Foods brand and concept has caught on and is highly recognizable in major metropolitan areas ranging from New York to Dallas to Los Angeles. That could mean the company's next growth frontier is smaller markets.
Perhaps places like Buffalo, Des Moines and Pittsburgh. Currently, there is just one Whole Foods in each of Des Moines and Pittsburgh. The closest Whole Foods to Buffalo requires a trip over the Canadian border.
In theory, this means there are avenues for growth without over-saturation. However, there is already one Whole Foods in Des Moines and a city with a population of less than 210,000 probably does not need more than two of this type of retail concept. Buffalo brings another risk: Declining population. As the Census Bureau notes, Eerie County's population has been in decline for multiple decades.
Pittsburgh is also home to negative population trends. Today, nearly 308,000 people live there. That is down from almost 370,000 in 1990.
What about Philadelphia, where there are currently three Whole Foods? That city's population today is steady with what was seen after the 2000 census, if not slightly higher, but both numbers are below the reported population in 1990.
Forgive the word echo, but the reality is there are multiple realities with Whole Foods. One reality is, to this point, the company has shown itself to be well-run and adored by consumers and shareholders alike. The next reality is that the company probably does not need to add more stores in the biggest U.S. metro areas. That means more real estate expense and elevated risk of self-inflicted cannibalization.
That flows into the other reality of expanding into markets with stagnant, or worse, declining populations. It might be a bitter pill for some to swallow, but maybe tripling the store count is not the way for Whole Foods to keep delivering stellar shareholder returns.
Posted-In: News Short Ideas Retail Sales Management Intraday Update Markets Movers Trading Ideas Best of Benzinga
View Comments and Join the Discussion!