Draghi Praises ECB Reforms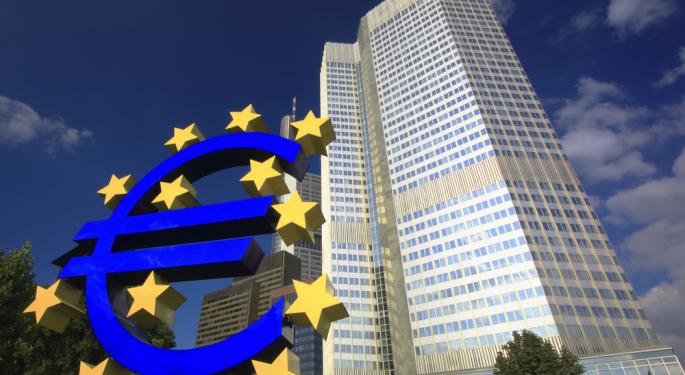 After a trying year, it seems the euro will close out 2012 on an upswing. The region's three year financial crisis seems to have finally simmered after the European Central Bank made a pledge to save the common currency back in July. Since then, the ECB has set up a bond buying program for struggling economies and began the process of restructuring the region's banks under a single supervisor.
The euro traded at $1.32 on Tuesday morning, a reflection of calmer markets and confidence in the region.
ECB President Mario Draghi spoke out on Monday, claiming that the new centralized banking system will help the region to recover in the second half of 2013. The bank predicted that the eurozone economy has contracted 0.5 percent in 2012 and will contract 0.3 percent in 2013, but according to Bloomberg, Draghi believes that investors will see a marked improvement in the second half of 2013.
The new banking structure isn't expected to be implemented until March of 2014, but the legal framework should be completed in the spring of 2013. A new centralized structure means the ECB will directly control roughly 150 of the region's near 6,000 banks. The banks which aren't under direct control will be indirectly tied to the structure, since the ECB will have the power to intervene if need be.
Although Germany has fought hard to keep the new system from controlling its savings banks, there are many positive attributes to the new structure. In this system, the European Stability Mechanism, will be directly accessible to banks in need.
As the region nears the New Year, many are looking to Spain to see whether or not the country will ask for a full sovereign bailout. After months of rumors about whether or not the country will access the unlimited bond buying program promised by the ECB, many are expecting to see a request in 2013. Investors will also be eyeing the ECB's monthly meeting in January as another rate cut is possible.
After Draghi admitted that the region would probably struggle in the first half of 2013, some are expecting the record low 0.75 rate to drop even lower.
Posted-In: Mario DraghiNews Commodities Forex Global Markets Best of Benzinga
View Comments and Join the Discussion!