Year-End Trades in Retail: Are There Quality Names on Sale?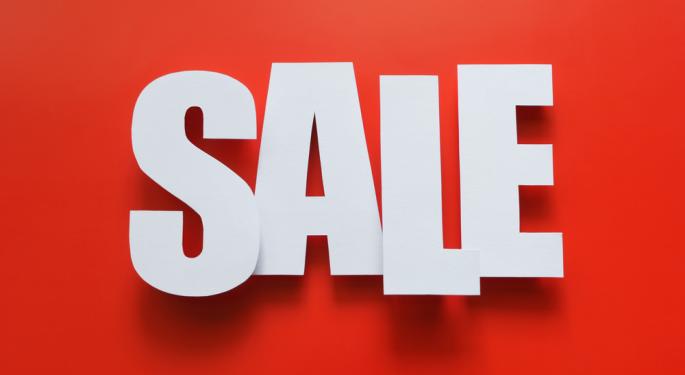 With the end of the year rapidly approaching and the holiday shopping season in full swing, investors might consider looking at retail stocks.
The following is a list of five retailers, all of which have grown earnings while posting positive same-store comps.
Amazon (NASDAQ: AMZN): a purveyor of such durables as clothing, books, and electronics, the company has an advantage over its brick-and-mortar counter parts. According to MarketingProfs.Com, the company outperformed traditional stores on Cyber Monday, coming in first place above Wal-Mart (NYSE: WMT) and Best Buy (NYSE: BBY), which came in second and third, respectively.
Deepfield.Com notes that Amazon captured 14 percent of all internet traffic on Cyber Monday, trouncing eBay's (NASDAQ: EBAY) 8.8 percent to come in number one for the day. The company enjoys a high level of liquidity supplemented by the recent flotation of $2.973 billion in notes. Additionally, Amazon's lack of a traditional retail network reduces operating and capital lease costs common to such competitors as Walmart and Best Buy.
Shares are trading near $250, up about four percent since Black Friday and Cyber Monday.
Currently, over 50 percent of Street analysts have assigned the stock a Buy or Outperform rating. As noted by the WSJ, future sales could be driven by the proliferation of smart phones and hand-held devices like the iPad.
Dick's Sporting Goods (NYSE: DKS): The company exceeded estimates for the third quarter, raising guidance and posting a 5.1 percent same-store sales comp. This is a strong showing by anyone's estimation.
Dick's sells every manner of sports equipment and clothing under the sun. Dick's product offerings appeal to the children's (grades K-12) market for sporting goods. Many parents may fight to keep their children in extra-curricular sporting activities to maintain a sense of normalcy for their kids, arguably supporting the stock even in a tough economy.
Over the last three years, revenues have grown about 14 percent, while net income has grown handily at a compound annual growth rate of 40 percent over the same period. Shares, however, are down about six percent since Black Friday/Cyber Monday.
Dillard's (NYSE: DDS): Looking for a one-stop brick-and mortar play on the retail space? Look no further than Dillard's. Performance at the retailer couldn't be stronger. In the third quarter the company reported a 100 percent increase in earnings and a five percent same-store comp.
The company's P/E of approximately 13x is below that of the market, which is around 13-15x. Thus, this stronger performer is made further attractive by being slightly under valued.
Note that while Macy's (NYSE: M) is also undervalued on a P/E basis relative to the index, the high leverage maintained by the company, as evidenced by their 124.75x debt-to-equity ratio, lends an element of risk to the investment not present in Dillard's, whose debt-to-equity ratio is a mere 41.2x.
Home Depot (NYSE: HD): Another strong performer. Comps for the third quarter came in at around 4.2 percent, while earnings beat analysts estimates by $0.04.
Action in the home building space is key to playing Home Depot.
Homebuilders including Toll Brothers (NYSE: TOL), DR Horton (NYSE: DHI), and Hovanian Enterprises (NYSE: HOV) have been on a tear since the beginning of the year, outperforming the index by double digits.
Where there is home building, there is a need for lumber and building products. Home Depot offers the widest selection of homebuilding and interior home accessories and has consistently outperformed its primary competitor Lowe's (NYSE: LOW). Over the last year, it has outstripped the market by 42 percent.
Note BlackRock, Capital World Investors, and Capital Research Global Investors all maintained positions in the stock as of the first quarter.
Urban Outfitters (NASDAQ: URBN): The premier purveyor of apparel and kitschy home ware to the tragically hip, the company has outperformed the NASDAQ by approximately 25 percent year-to-date. The posted a modest comp of 8%, including all business lines, and earnings within one cent of the consensus average. We attribute some of this to their success to the trade-up effect (i.e., as economic malaise abates people become willing to spend $20 to $30 on a t-shirt). At a current P/E of 28.9x, it's more expensive than the market, which trades at 15x to 17x.
As of the end of this year, Goldman Sachs Asset Management and Maverick Capital, among others, were buyers of the stock, which was trading at approximately $26. While they do not appear to have made any effort to liquidate, thus implying further upside exists, the stock trading near a five-year high and resistance level of $40.00.
Posted-In: News Retail Sales Trading Ideas Best of Benzinga
View Comments and Join the Discussion!