Citigroup Plans Cut of Another 11,000 Jobs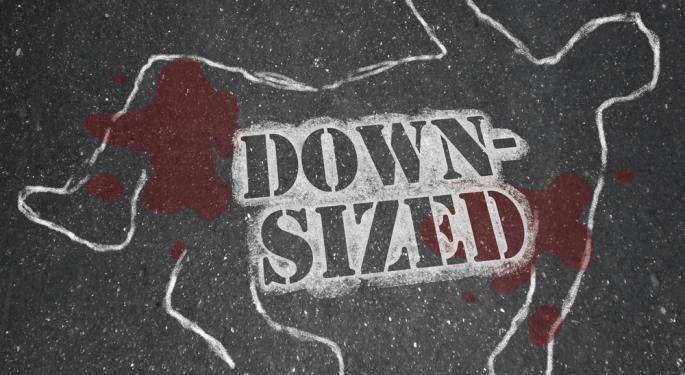 Citigroup, Inc. (NYSE: C), the nation's third-largest bank, said that it will take a pretax charge of $1 billion this quarter in a plan that will eliminate more than 11,000 jobs, about 4 percent of its total staff.
About 1,900 jobs will be eliminated in the institutional clients group, with the intent to "improve overall productivity in our markets business, especially in areas experiencing continued low profitability, such as cash equities," Citigroup said.
Another 6,200 jobs will be eliminated from Citigroup's global consumer banking business, and 2,600 jobs will be eliminated in the operations and technology group and global functions.
This announcement comes after the news last week that Citigroup would be cutting 150 jobs and decreasing bonuses by about 10 percent. Chief Executive Officer Michael Corbat has taken these steps in order to face challenges that include a slump in trading and investment banking revenue, stiffer capital requirements, and the European debt crisis, all of which have had an impact on Wall Street.
Declining revenues have forced other investment banks to make cuts as well. Earlier this fall, Bank of America Corporation (NYSE: BAC) announced it would make 16,000 cuts before year end. About a month ago, UBS (NYSE: UBS) stated it would cut about 10,000 jobs.
This is the latest downsizing decision Citi has been forced to make as the financial crisis and its myriad ripple effects continue to lead to tough choices on Wall Street. The company dismissed 1,200 employees from their securities and banking division in January, which also included firings in technology and operations. By July, the company had decided to eliminate another 350 jobs.
Corbat, who took over at Citigroup last month, commented on the cut of 11,000 jobs, "These actions are logical next steps in Citi's transformation," designed to improve efficiency and maintain Citigroup's capabilities to serve clients, particularly in emerging markets. "While we are committed to – and our strategy continues to leverage – our unparalleled global network and footprint, we have identified areas and products where our scale does not provide for meaningful returns."
The pretax charges of about $1 billion will be reported for the fourth quarter of 2012, with an additional $100 million in related charges occurring in the first half of 2013. Citi expects that this repositioning will generate $900 million in expense savings in 2013, and expects annual expense savings to exceed $1.1 billion beginning in 2014.
Citi also stated that it expects these repositioning moves to negatively impact annual revenues, but to an extent not greater than $300 million.
Shares of Citigroup traded up by almost four percent at the time of this writing.
View Comments and Join the Discussion!
Posted-In: Bank of America Corporation Citigroup Incorporated Michael Corbat UBSNews Management Best of Benzinga