THQ Humble Bundle Earns $2.3 Million as Investors Flee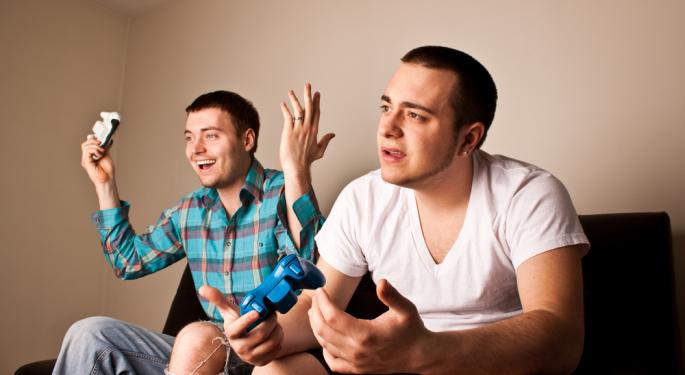 THQ (NASDAQ: THQI) has dropped more than seven percent today after launching a new Humble Bundle that includes seven of the company's most popular games.
Saint's Row: The Third, Darksiders, Metro 2033, Red Faction: Armageddon, Company of Heroes, Company of Heroes: Opposing Fronts and Company of Heroes: Tales of Valor are included with the bundle, which allows consumers to pay whatever they want for the package. Saints Row: The Third is only offered to those who pay more than the current average of $5.69, however.
The bundle -- which also includes five soundtracks -- was designed to help the Child's Play Charity, as well as the American Red Cross. The former organization donates new game consoles, video games and peripherals (controllers, joysticks, etc.) to hospitals and therapy facilities worldwide. Users can decide to donate all or a portion of their money to charity, or simply give the money to THQ.
HumbleBundle.com has published a list of the top 10 contributors, which includes Jason Rubin, the President of THQ and the former creator of Crash Bandicoot. Rubin donated $1,050. Turtle Rock Studios, which created the Left 4 Dead series and is currently working on a game for THQ, came in second place with a $1,024 donation.
The Humble Bundle claims that if users purchased all of the games and soundtracks separately, they would spend upwards of $190. This may be true on Steam (the service providing digital copies for the Humble Bundle), where these games retail for a combined total of $150. GameStop (NYSE: GME) charges the same combined price for the PC versions of these games, but the console iterations are typically cheaper.
Thus far, THQ's Humble Bundle has earned more than $2.3 million from more than 400,000 purchases. Despite the success, investors are clearly afraid of the long-term impact this could have on the company's bottom line.
THQ has performed horribly this year. The company concluded the last five days with an impressive gain of 29.82 percent. But in the last 30 days, THQ lost more than 47 percent of its value. During the previous three months, THQ dropped 68 percent. The company's value plummeted 77 percent over the last six months.
Despite these declines, nothing can compare to the year-to-date loss of 81 percent. This literally makes THQ one of the biggest losers of the year.
THQ was also one of the biggest losers of 2011. From January 4, 2011 to December 30, 2011, the company dropped 85 percent. And over the last five years, THQ has lost more than 99 percent of its value.
Most of these are troubling developments -- but the Humble Bundle is not one of them. By using the Humble Bundle to build buzz and awareness for older games, THQ might actually persuade consumers to buy its newer titles, most of which are sequels.
For example, Saints Row 4 is due in 2013. The previous game sold 2.3 million copies on Xbox 360, 1.88 million on PlayStation 3 and 260,000 on PC. If all of those consumers returned for Saints Row 4, THQ will sell about four million copies of the game.
Four million is a nice number. If THQ could increase its sales to five million, that would be even better. But why stop there? If THQ could continually raise the potential sales of its most popular franchise, it should do everything in its power to make that happen.
The Humble Bundle could help THQ in this regard. Maybe it won't be Saints Row that benefits -- but if consumers discover a newfound love for Red Faction, Company of Heroes or any other THQ series, the company could win big at retail.
TV networks have employed a similar strategy when they publish old episodes online. In doing so, they could dilute DVD sales and eliminate paid rentals. They also run the risk of diluting the ratings they gain when the show first airs. But by publishing old episodes online, they allow newcomers to catch up on shows they have missed. This enables TV networks to expand the overall viewership of each, which is essential to the survival of every show.
Before streaming video, Family Guy was saved by DVD sales and syndication -- both of which allowed viewers to catch up and enjoy a show they had missed.
Networks that convince viewers to watch online are typically successful at getting them to tune in when new episodes air on TV. Thus, shows like Modern Family and Once Upon a Time are performing better now -- not worse -- than when they premiered. Strong marketing campaigns and word-of-mouth praise have surely helped. But without a way to catch up, their ratings might have been much lower.
A similar strategy has helped the film industry as well. Few consumers paid to see Austin Powers in theaters, but millions rented it on DVD. The sequel, Austin Powers: The Spy Who Shagged Me, went on to make $206 million in theaters -- nearly four times the amount of the original.
There is no reason why THQ cannot employ a similar strategy to boost the popularity of its games. The Humble Bundle may not be the ultimate solution to its problems, but it seems like a step in the right direction.
Follow me @LouisBedigianBZ
Posted-In: Humble Bundle Jason Rubin thqNews Success Stories Intraday Update Movers Tech Best of Benzinga
View Comments and Join the Discussion!