Extremely Oversold: Chinese Solar Stocks Heat Up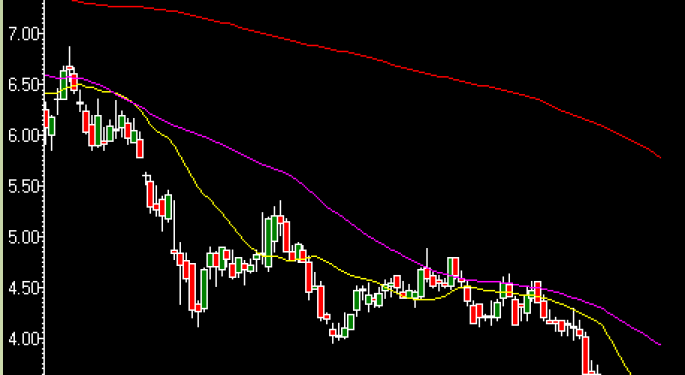 Chinese solar stocks have been priced for bankruptcy. Over the last two days that may be changing. Word from China is starting to turn positive as these companies are now looking towards selling their solar panels inside China instead of outside. In addition, China seems to be subsidizing them nicely, supporting them from bankruptcy. Earlier this year, the U.S. imposed huge tariffs on solar imports as a measure to penalize dumping on the open market.
Overall, the only solar stock that has performed extremely well in the few months is First Solar, Inc. (NASDAQ: FSLR). First Solar bottomed at $11.43 back in May 2012. Since then it has more than doubled, hitting a high today of $27.40. Overall, this was the major standout while most other solars have kept making new 52 week lows.
Today, small solar stocks are ripping, especially Chinese solar stocks. Trina Solar Limited (ADR) (NYSE: TSL) is trading at $2.69, +0.36 (15.45%). This stock hit a new 52 week low just a few days ago at $2.30. In addition, other Chinese solar stocks are ripping higher as well. LDK Solar Co., Ltd (ADR) (NYSE: LDK), Suntech Power Holdings Co., Ltd. (ADR) (NYSE: STP), JA Solar Holdings Co., Ltd. (ADR) (NASDAQ: JASO) are just a few that are pushing higher today.
Overall, the Chinese solars do have more upside to them. Look for the ones that are still close to their lows. There are enough shorts in these that a squeeze could net a 50% gain from the lows with ease.
If you are tired of getting screwed by Wall Street and the institutions, learn the proprietary PPT Methodology which is rocking the world and spitting out profits every day. Join the Research Center and begin your trek towards amazing success. Learn how to analyze any market, stock, commodity or currency to figure out where it is headed with 80-90% success. Take the seven day free trial and begin your new life and a profitable investor and traders.
Gareth Soloway
InTheMoneyStocks
The following article is from one of our external contributors. It does not represent the opinion of Benzinga and has not been edited.
View Comments and Join the Discussion!